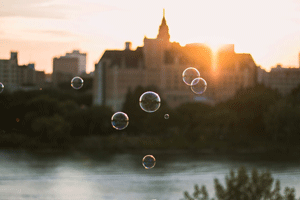 It's easy to get wrapped up in headline-grabbing financial commentary. For those of us who live and breathe trading, it's hard not to have a strong opinion on long-term market trends. Nowadays, you can't go far without hearing that Bitcoin, equities and Treasuries are in a bubble.
Instead of getting wrapped up in the hype, Billionaire Hedge Fund Manager Cliff Asness argues that the mainstream understanding of bubbles is wrong. He thinks too frequently "bubble" is synonymous with "expensive": "The term bubble should indicate a price that no reasonable future outcome can justify."
Is Bitcoin a bubble? Are there future scenarios that could justify the current price? Imaging that might require a bit more of a discussion and understanding of cryptocurrencies.