Three months of Dollar losses against the Yen could be reversed if Presidents Trump and Xi reach some sort of breakthrough in trade talks this weekend. The event holds important implications for global financial markets, especially those with close ties to China (including Japan). It also comes ahead of important data on the economic front.
A Bumpy Ride for USD/JPY
After the January "flash crash" sent USD/JPY tumbling to a low of 104.80 on January 3, the Dollar battled back and, just two weeks later, recovered from the steep loss. From there, a steady chop higher pushed the pair to beyond 112 through late April, before another reversal unfolded. USD/JPY was recently 107.50.
The Yen has been supported by a myriad of factors over the past few months. On the one hand, it's often viewed as a "safe haven" currency. The recent flight to safety has been due to worries about global growth, trade and tensions in the Middle East. Meanwhile, the U.S. Federal Reserve has taken a more dovish stance lately, and the prospect for lower interest rates weighs on the Dollar across the board.
---
---
Yet while the Yen appreciates against the Dollar, the outlook for Japan's economy remains murky. Many Japanese companies in technology and manufacturing are heavily dependent on China for business. The slowing in Chinese economic activity, due in part to the ongoing U.S.-Sino trade dispute, isn't helping matters. In fact, Japan's stock market is the second weakest this year behind South Korea.
A recent proposal to increase the nationwide sales tax from 8 to 10 percent in October is also raising concerns that higher taxes could crimp consumer spending going forward, delivering another blow to Japan's economy.
In the short term, however, eyes are on Trump-Xi talks at the Group of 20 Summit on June 28 and 29 in Osaka, Japan. Any positive developments in the trade dispute would likely benefit the Dollar versus the Yen, as the Japanese currency would likely lose some of its "safe haven" bid.
In other words, the table is set for a sharp reversal in USD/JPY (downtrend in Figure 1) on upbeat trade news, but further downside seems more likely if no breakthroughs are achieved at G-20.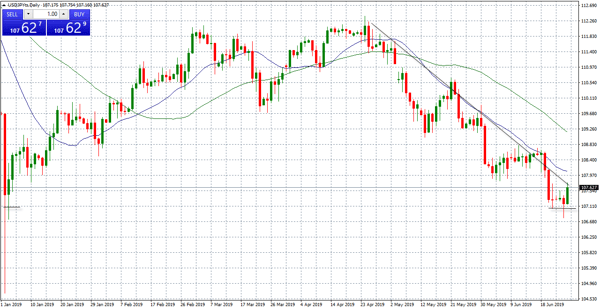 Figure 1: USD/JPY Daily Chart with 20- and 50-day Moving Averages
Forthcoming Data to Watch
In a world of economic uncertainty, data will also drive short-term price action in the currency market. There are a boatload of key indicators due in both the U.S. and Japan, including Japan's key Tankan manufacturing survey Monday morning (Sunday evening in the U.S.) and the U.S. monthly jobs report on July 5 after the July 4 holiday:
Japan
6/28: Construction Orders, Housing Starts, G20 Summit begins
6/30: Tankan Manufacturing Survey (7:50 EDT)
7/1: Consumer Confidence
7/4: Household Spending
United States
6/28: Personal Income/Spending, Chicago PMI, University of Michigan Consumer Sentiment
7/1: Manufacturing PMI, ISM Manufacturing, Construction Spending
7/2: Redbook Retail Sales, Auto Sales, ISM New York
7/3: ADP Jobs report, Jobless Claims, ISM Non-manufacturing, Factory Orders
7/4: Holiday
7/5: JOBS, JOBS, JOBS
107 is a key level for USD/JPY: a level that held this week and one that was in focus in the days after the "flash crash" earlier this year. Failure to hold 107 through G-20 and next week's economic data suggests that players are not too optimistic about a resolution on the U.S.-China trade front – and that the Yen is seen as an attractive play despite Japan's tepid economic outlook.