ALL-TIME HIGHS! At least in Dow, Nasdaq and S&P Futures. Thanks Santa!
But how much value does Santa really bring to the stock market after his rally? Well, according to the Stock Trader's Almanac, the S&P 500 has a high historical probability of posting an average gain of 1.3% in the last five trading days of the year and the first two trading days of the new year (The Santa Claus Rally).
Below is a table of all the years the S&P 500 made a record high in December. There are 19 of them. The years following new December highs were not great, but not horrible, up 63.2% of the time (up 12, down 7) with an average gain of 6.3% and a median gain of 7.1%.
This shows that the Santa Clause Rally has been worth looking at when stocks are near all-time highs at the end of the year.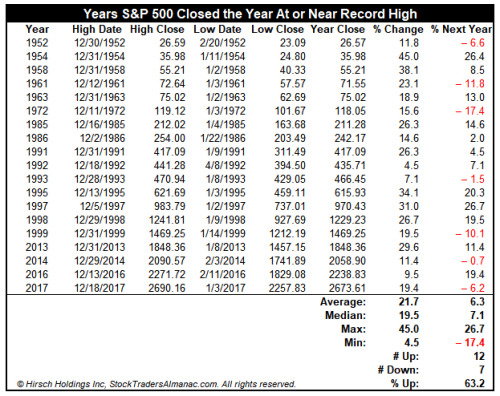 Until today, the rally was barely holding above water. On this morning's open, the E-mini S&P 500 Futures (ESH20:CME) were up a mere 2.75 handles, or +0.08%, since the clock started on Dec. 24. That left just two trading days to cover the remaining 39 handles.
China To The Rescue
Markets in Asia and Europe exploded Wednesday night from news that the People's Bank of China (PBOC) will be implementing a new round of monetary easing, freeing up much needed cash for lending. U.S. stocks responded in kind to the rallies overseas with solid gains across the board.
If you remember, one of the main triggers for last year's end-of-year cliff dive was the Fed hiking interest rates. Since raising rates is not a factor right now, and with China expected to post two more rounds of QE this year, the Fed would really need to come out with a bombshell report to halt the market's momentum. With the S&P hovering around the all-time high, it's hard to see that happening.
Due to the shortened holiday week, the December jobs report won't be released until January 10, and this morning's claims report was a non-event. There is, however, a decent amount of Fed speak scheduled to end the week. Couple that with the release of the FOMC Minutes at 1 PM CT Friday, and we might just get the boost we need to save Santa's rally.