The Dollar lit up like a roman candle after the July Fourth holiday. The currency benefited from a stronger-than-expected June jobs report, and its move comes just two days after President Donald Trump suggested that the United States should begin manipulating its currency to better compete with China and Europe.
Strength from the U.S. Economy, Weakness in Europe
The Labor Department said Friday that the U.S. economy added 224,000 jobs in June. The headline number was well above economist estimates of 165,000. While no change was expected, the rate of unemployment ticked up modestly to 3.7% from 3.6%. Lastly, hourly earnings rose 0.3% and matched economist estimates of 0.3%.
EUR/USD had already moved well off June highs prior to the monthly payroll report. The pair was just north of 1.14 after a late-June spike, but dipped lower into July and then saw a substantial dip, knocked down to 1.13, on the first day of the month after commentary emerging from the G20 eased concerns about the U.S.-China trade dispute. That is, the dollar was bolstered after China and the U.S. agreed to resume trade talks.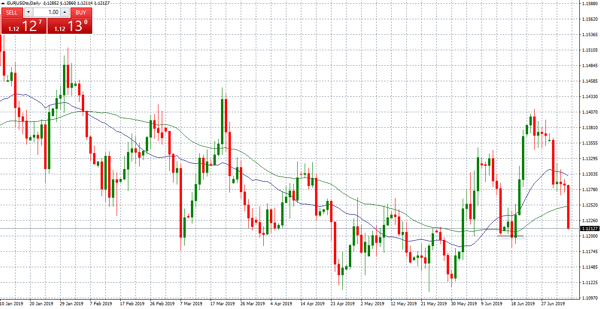 Figure 1: EUR/USD Daily Chart
Weaker-than-expected new orders data from Germany added to the Euro's woes on July 5. The report showed manufacturing orders in Europe's largest economy plunging 2.2% month over month. Economists were expecting an increase of 0.2%. The bleak number adds to disappointing stats on Germany's jobs and retail sales lately. As a result, EUR/USD is again knocking at the door of the key 1.12 level (Figure 1).
Against the Yen, the greenback is attempting to recover losses over the past two weeks. A spike Friday pushed the pair back toward the previous support/resistance area around 108.5 (Figure 2). As noted last week, the multi-month rally in the Yen faces a test as U.S.-China trade talks unfold.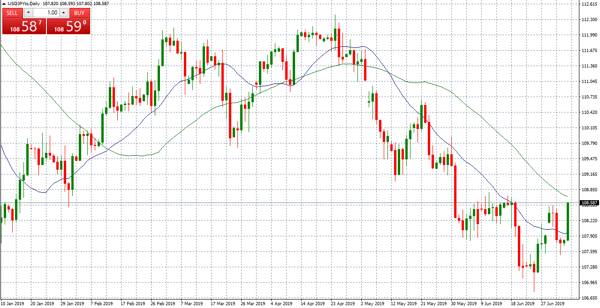 Figure 2: USD/JPY Daily Chart
Fed Meeting, Economic Data & Twitter
Looking forward, minutes from the latest Federal Reserve meeting, due Wednesday afternoon, and inflation data (CPI and PPI) later in the week will be possible catalysts for the Dollar.
Expectations for looser monetary policy have been an important reason for Dollar weakness in recent months, but if those rate expectations change on strong data (like Friday's jobs report), the Dollar could continue to advance versus both the Euro and Yen.
Against this backdrop, however, currency traders will be keeping a keen eye on future commentary from Washington after the President stepped into the fray last week. Taking to Twitter, Trump said Wednesday:
China and Europe playing big currency manipulation game and pumping money into their system in order to compete with USA. We should MATCH, or continue being the dummies who sit back and politely watch as other countries continue to play their games - as they have for many years!

— Donald J. Trump (@realDonaldTrump) July 3, 2019
It's not clear what methods the President has in mind to "match" China and Europe on the currency front. A weaker currency can boost a country's exports by making goods cheaper and more competitive. So maybe a weaker Dollar policy is what POTUS has in mind?
At the same time, the buck is likely to find strength if Trump achieves other long-term objectives like creating jobs and achieving higher levels of economic growth. So, data, FOMC commentary, and technicals will likely be the short-term drivers for the greenback, with 108.50 USD/JPY and 1.12 EUR/USD key levels to watch.
---
---