If you're primarily a swing trader in the futures and currency markets, or use these markets for correlation, you may have found yourself confused over the last several weeks. If so, you are not unique in this observation, as the markets have been sending out some mixed signals.
Despite the fast decline, and quite unstable circumstances surrounding the global and U.S. economy, the stock markets in the U.S. have been rallying hard during April. Today, on the last day of the month, the indexes are giving back some gains, which is not unexpected, as one would anticipate some end of the month profit-taking.
However, such a rally in the face of economic calamity seems genuinely unattached. Of course, in recent years, 'buy the dip' strategies have done nothing but pay over the longer term, but even so, this event has been particularly unique.
Claims Continue Grow
Today, weekly jobless claims were once again announced for the prior week, coming in at 3.8 million. The last six weeks have seen the most significant surge of these claims in history, and the second-largest wave is not even close. Consider, now, after six weeks; there have been 30 million unemployment claims filed; meanwhile, in the entire recession lasting from December 2007 to June 2009 (roughly 1.5 years), the total net job loss figures were about 2.6 million.
However, the Fed did step up with quantitative easing programs, once again rescuing financial markets and giving a boost to buyers. While this likely induced the stock market to higher prices, other markets have not been as confident about the possibility of the risk being over.
---
---
Risk On/Risk Off
Consider metals, such as gold, a risk-on asset that continues to find support even at multi-year highs. Or copper, often seen as a leading economic indicator. Copper has been rising in recent weeks, but the rally is modest compared to the losses that surmounted from earlier this year. Clearly, copper is still suffering from a global slowdown.
Other risk-off assets, such as fixed-income securities, continue to rise as well, including U.S. Treasury Bonds and Notes. The Japanese Yen, usually seen as a safe-haven, has been rallying in recent weeks.
The recent sell-off in Crude Oil has been quite noticeable, as "black gold" still suggests that the economic conditions for a rebound are not so near. Meanwhile, the grain markets, such as corn and wheat, remain weak. In contrast, soybeans still have yet to find real upside momentum, even while demand has increased as China has once again been importing beans.
What does all this mean? Simply that the stock market showing risk-off behavior is disconnected from most every other economic indicator.
Recovery Will Take Time
A few weeks ago, I included the below chart from the SARS virus as an analog in terms of commodity prices. Most certainly, the Covid-19 pandemic surpassed the effects of SARS back in 2003.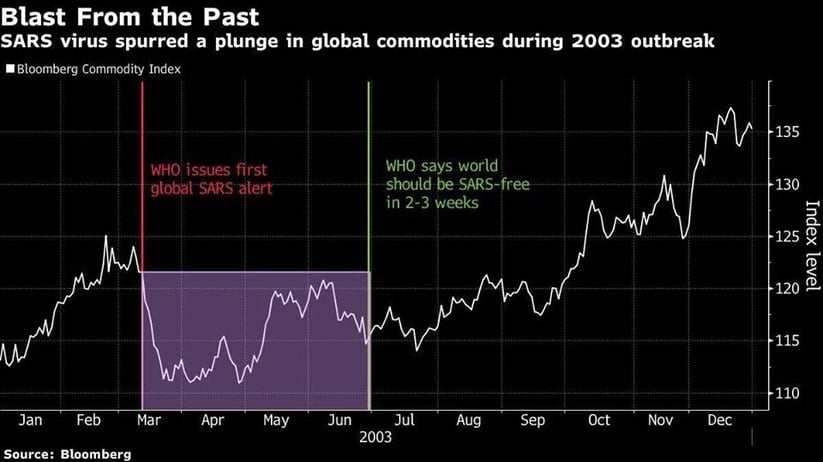 This historical chart serves as a limited guide at this point. However, it still does demonstrate that once there is the slightest indication that Covid-19 will be eradicated, it may still take months before affected markets begin to rebound. In other words, supply and demand may take time to catch up. Given the seriousness of the current pandemic, and fears of a recurrence, it would be wise to expect the economy to take longer to recover.
At this point, the primary charts that I am watching are the ones below. Death tolls are just starting to decrease in the United States. Meanwhile, we are still waiting for the trajectory of new cases to begin to rollover.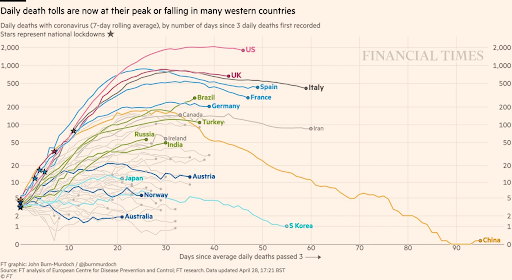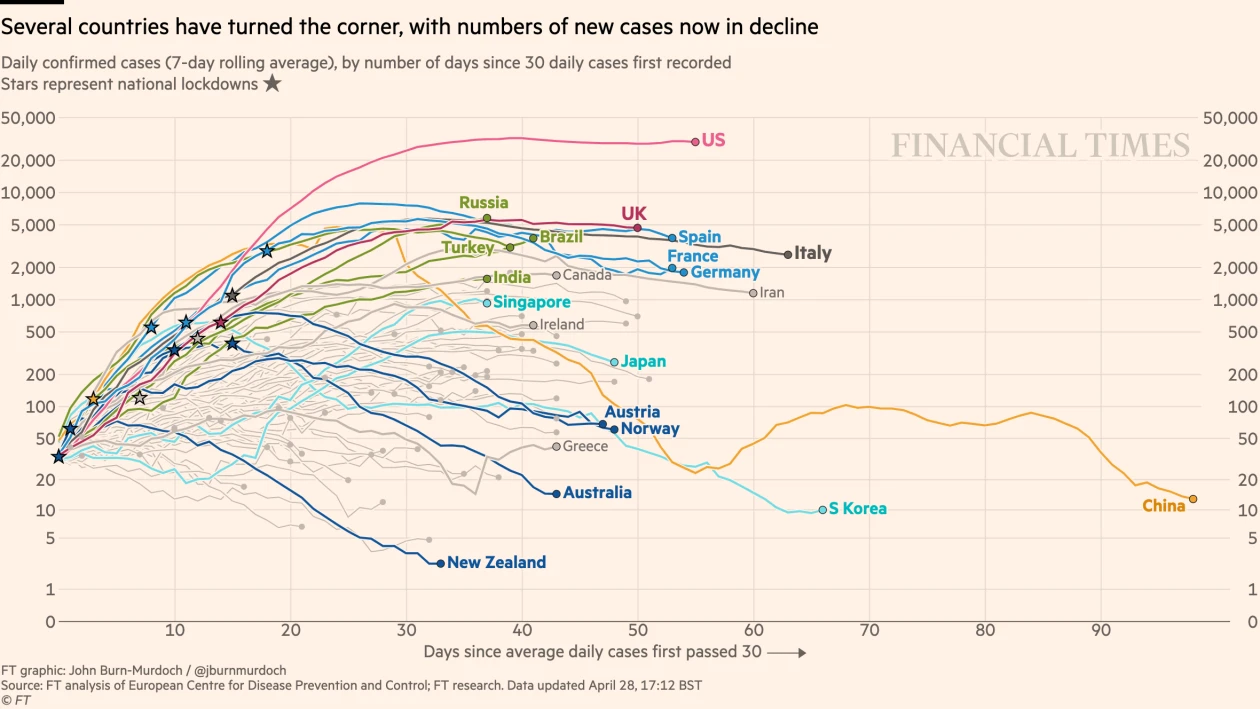 Based on this data, it seems optimistic to be looking at near term objectives for the vast majority of the U.S. to re-open. It appears there may be another sixty days before levels are minimal. One must ask how vulnerable the population might be if there is a premature resumption of near-normal social measures.
In conclusion; given these concerns and uncertainty, it appears that the stock market in the U.S. is no gauge for reality, but that hasn't stopped the indexes from "buying the rumor" of a short-lived recession.