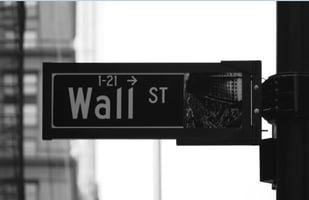 So far in 2018, the trend for a weaker U.S. Dollar has only continued. Last week, the Euro (EUR/USD; $6EH8) hit its highest level since December 2014.
But as we saw in 2017, forex trends can quickly change. There, the U.S. Dollar hit new highs early in January before abruptly turning around and entering a year-long downtrend.
What's moving the forex market this week?
1. The U.S. Government Shutdown
Writing this on Sunday ahead of the market open, the impact of Friday's shutdown is currently unclear. It seems that most reporting suggests that the situation will be resolved in the next couple days - potentially even before Monday. However, the longer it drags out, the more it will impact trading.
In addition to raising concerns of political instability, the shutdown has the very real impact of delaying economic data that is scheduled to be reported. For example, Friday's U.S. GDP report will not be released if the U.S. government is shut down. But it's also unclear if the report will be delayed if the government is not back to work early this week.
2. Tuesday's Bank of Japan Meeting
Elsewhere in the world, the Bank of Japan (BOJ) and European Central Bank (ECB) will hold meetings this week that may indicate upcoming changes to interest rate and quantitative easing policies in the two economies. The market will center its reaction to both meetings based on comments from the two central bank leaders - the BOJ's Haruhiko Kuroda and the ECB's Mario Draghi.
In Japan, the market's reaction will likely be determined by changes around the edges, including updates to the BOJ's quarterly forecast (released January 23). There is no expectation that the BOJ will hint at an end to its extraordinary stimulus - amounting to $724 billion annually. But there is some debate about whether the BOJ will keep its language that inflation expectations are "on a weak note." A change there, even as minor as it may be, could suggest the BOJ is looking for an exit to its stimulus.
3. Thursday's European Central Bank Meeting
Europe is much farther along the growth curve than Japan - and the market is already pricing in the liklihood that the ECB ends its stimulus program in 2018. In fact, this month, investors have started to price in the potential that the ECB raises interest rates as early as December. Such a move would be the first interest rate hike since 2011.
If ECB President Draghi indicates a slightly tighter policy is coming at his post-announcement press conference (7:30 AM CT on Thursday), you may expect the Euro to strengthen further. On the other hand, Draghi could also try to talk down the Euro - noting that a stronger Euro would be a headwind to quickening inflation.