Last week, we took a close look at currency/commodity correlations by making specific reference to the Japanese Yen and U.S. Treasury Notes, using one market's technical health as an indication for the other.
Today, we will look at an additional example utilizing the Australian dollar (AUD) with CME gold futures. Because the U.S. gold futures represent the U.S. dollar (USD) against gold, the currency correlation works most appropriately with the Australian dollar against the U.S. dollar (AUD/USD).
Gold Moves AUD
One of the main reasons why the AUD correlates to gold is that the precious metal is one of Australia's primary exports, hence, the price of gold is closely tied to Australia's economy.
One of the essential lessons to learn when trading market correlations is knowing how to identify when these patterns are working, and when they are less reliable. On the side-by-side chart below, you will notice the left side is daily candles of the AUD/USD, and on the right is the gold futures contract.
---
---
For the most part, there seemed to be a negative correlation between these markets, as the AUD was weak while gold was rising. However, you will see the orange arrow from March 9th marked on both charts when these markets began to make a decisive positive correlation, as both sold off during the peak of volatility thus far of the COVID19 uncertainty.
Next, ten days later, on March 19th, these markets bottomed together, and have since been mounting an impressive move higher while trading in close correlation. This writer assesses that the most likely scenario is that gold is carrying the AUD higher rather than the other way around. One reason for this is that, aside from the stock markets, the world has still been in a risk-off posture as crude oil and commodities remain weak, while safe-haven assets like bonds and gold have been rising.
Therefore, if you are an AUD trader, it may be pertinent to chart gold during this time, particularly looking for potential resistance for a turn in both the metal and the currency.
Resistance Is Getting Closer
Because gold is trading at a multiple-year high, the next chart below shows the market on a monthly time frame since 2011, when all-time highs printed in that market.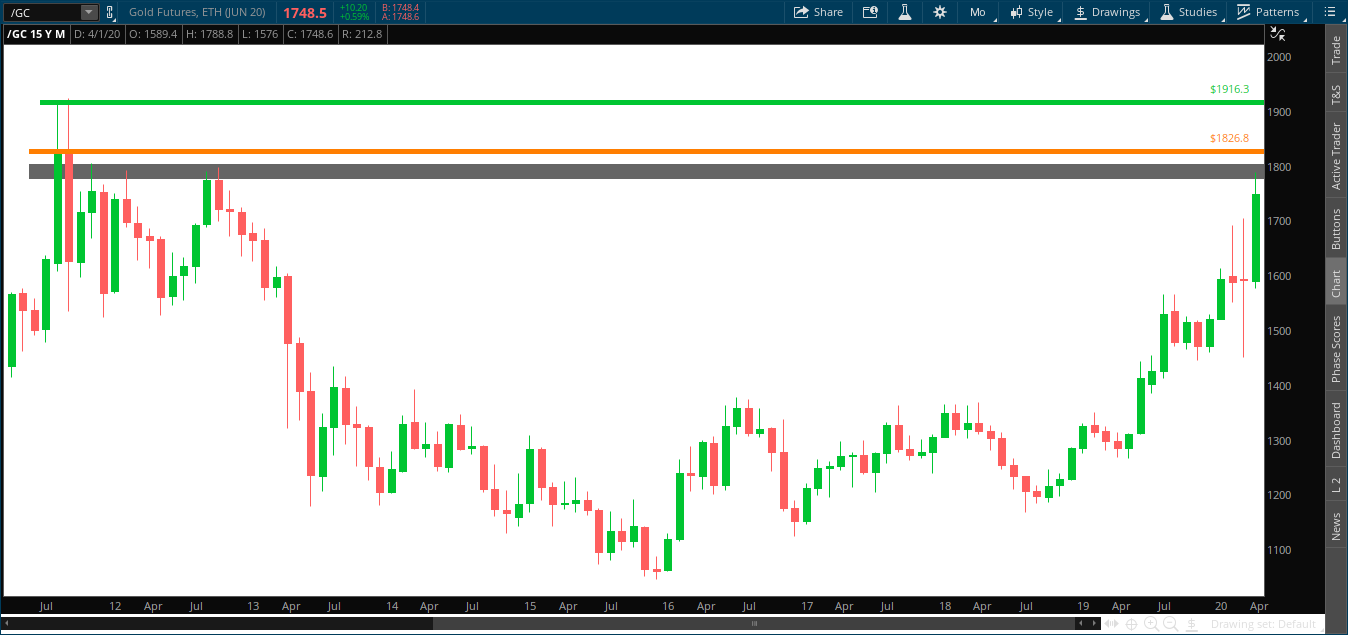 As you can likely see, gold is heading into an area of significant resistance. This resistance is something to remain aware of. Should substantial and reliable news of a COVID19 vaccination come, one would expect the world to breathe a sigh of relief, and perhaps even return to a risk on posture, which would give further weight to these resistance levels in gold.
Of course, one of the keys to trading is to look at the other side of your thesis. If the unfortunate occurs, and the COVID19 situation worsens considerably, then one might give less weight to these previous resistance levels in gold.