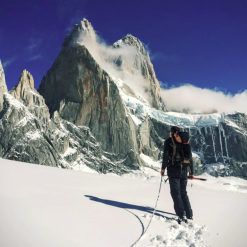 Some people come into trading with high expectations, thinking they will earn enough to retire with just a few trades. We hear stories about traders like John Paulson who made billions shorting the housing market in 2008. Or George Soros who made $1 billion shorting the British Pound in 1992.
What doesn't get covered in these news stories is the decades they put into their craft before they made it big. How they traded one and two lots to build up their confidence and performance.
Not only do high expectations usually come crashing down quickly, but they can actually lead traders to make bad decisions. Avoid that problem with this checklist of dos and don'ts for setting expectations.
Watch our CVO Michael Patak and Senior Performance Coach John Hoagland talk about trading expectations in this episode of Trader Behavior.
---
Are your expectations in line for profitable trading? Prove it in the Trading Combine® today.


---
Don't Set Unrealistic Goals
Imagine deciding you want to run a marathon the day before the race. Without any training, your chances of finishing, let alone winning, are probably around zero to none.
Trading is much the same. Going from one lot to 10 on your second day, maybe even your second month, isn't realistic. Even if you are perfectly in tune with the market, your emotions and strategy hasn't been tested in adverse scenarios. Until it has, you can't be sure how you will react if something goes awry.
Do Expect to Work Hard
Movies make trading look like the fast path to big money. Look at a few charts, make a couple of trades, and the next thing you know you're on a yacht, drinking champagne.
If only it were that easy. The more likely scenario is that you study the market in your spare time, get up at odd hours to make your trades, and lose more often than you win — at least at first. But if you set realistic expectations and stick to your trading plan, you do have a shot at being a successful trader.
Get started on your trading plan with "5 Steps for Creating a Great Trading Plan in 2018."
Don't Base Expectations on Money
Setting a monetary goal will almost surely backfire. The ups and downs of the market already wreak havoc on your mental and emotional state. A daily, even monthly, profit target increases the pressure.
When you focus on money, you raise the stakes. Suddenly, every bad trade is a piece of your mortgage going down the drain. That image can cause you to force trades or hesitate when you should move. Either way, you're not performing at your best.
Find this difficult to believe? Legendary Trader Tom Baldwin gives similar advice. for more insights from Baldwin's chapter in Jack Schwager's Market Wizards, read "4 Don'ts from the Trader Who Moved the Treasury Market."
Do Base Expectations on Metrics
Markets are complex animals. Expecting to learn everything you need to know in a few short weeks isn't realistic. Your better option is to develop a strategy that systematically moves you closer towards success. For instance, you may want to base your goals on metrics, such as:
Winning trade percentage;
Average winning trade size;
Average losing trade size; and
Reward to risk ratio.
Expectations based on metrics give you practical goals to aim towards without the pressure a monetary goal typically brings.
Don't Write Your Expectations in Stone
Athletes often talk about letting the game come to them. What they're saying is you can't force things to go the way you want them to go.
That's true in trading, too. Traders who set rigid expectations, like a required number of trades, often make the mistake of trying to bend the market to their will. They leave their trading plans behind, desperately trying to hit their goals. More often than not, that's is a recipe for disaster.
Do Set Goals that Encourage Growth
Some of the best expectations you can set help you grow as a trader. These might include goals like:
While these goals may be harder to measure, they can help you develop habits that lead to success.
If you have any questions or feedback, please leave it in the comments.