President Trump's Twitter feed, which has become perhaps the best leading indicator for equities lately, sent a strong sell signal last Friday morning after the President suggested that, "there was absolutely no need to rush" trade negotiations with China. This comes after a week of saber rattling that sent markets into a volatile tailspin.
This bearish setup was confirmed when the President revealed that the administration was still in the process of implementing 25% tariffs on an additional $325-billion-worth of Chinese goods.
The stock market initially took this breaking trade news… not well.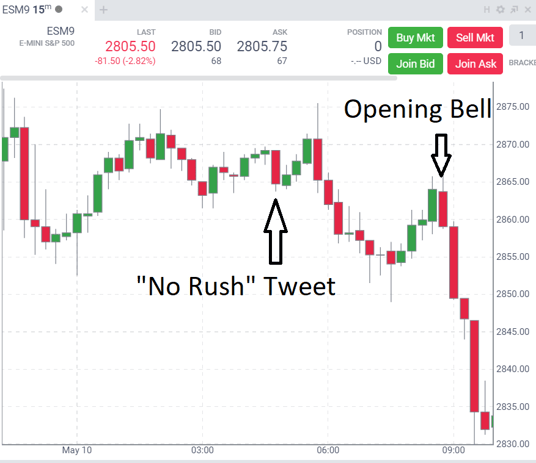 Yep. That there is a pretty brutal chart.
Stocks continued to get hammered all morning until Treasury Secretary Steven Mnuchin came in and apparently made things all better by calling the ongoing trade negotiations "constructive"—and boy, did markets take that news and run with it.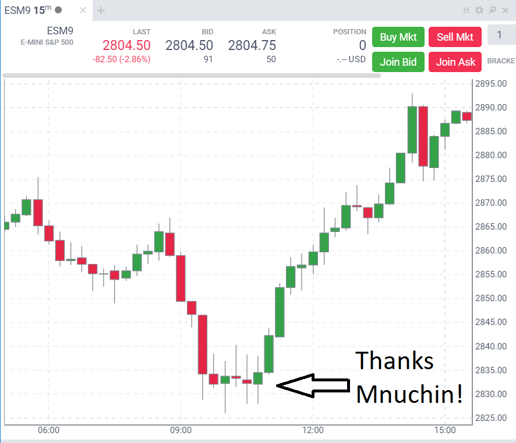 The S&P 500 actually ended the day up, but unconvincingly so. This brings us to the equity bloodbath that occurred yesterday. Just like Friday, the market tanked in reaction to a series of aggressive trade Tweets from the President. Unfortunately, there was no Steven Mnuchin around to right the ship and the S&P 500 index closed Monday down nearly 2.5%.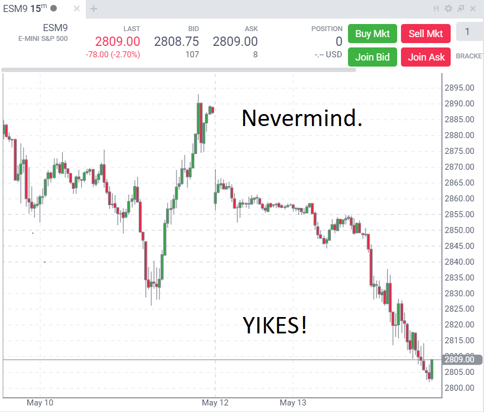 So where will equities go next?
Well, whether the current prices represent a great buying or selling opportunity depends heavily on both the outcome of these trade negotiations as well as your time frame. On a very short time scale, equities certainly appear to be a bargain. But remember, it was just a few weeks ago that the S&P 500 hit an all-time high. So, looking at the medium term, the market looks rather expensive, right?
But not so fast! In the even longer term, this market hasn't really gone anywhere since the beginning of 2018. That's almost 18 months of stagnation in a U.S. economy that keeps putting up awesome numbers.
---
---
But wait, we're also in the midst of a more than decade-long bull market that has seen stocks increase by more than 300% since the 2009 lows. That means the market is pricey—maybe?
Basically, nobody has much of a clue where these markets are going, and the chaotic trade negotiations with China will only add fuel to the fire. What we do know, is that there will likely be significant market volatility going forward, which should reward traders who know how to manage their risk, avoid taking big losses and capture what the market gives them.
Any feedback or requests? Leave a message in the comments!