TopstepTrader® and Futures Radio Show™ Announce Sponsored Partnership TopstepTrader Becomes Silver Sponsor alongside CME Group and Trading Technologies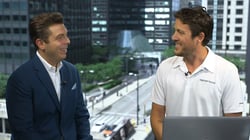 Chicago, IL (June 26, 2017) – TopstepTrader has signed on as the Silver Sponsor of Futures Radio Show, a weekly talk show hosted by 17-year futures veteran and Chicago Mercantile Exchange member, Anthony Crudele. The program, with over one millions listens, invites industry leaders to discuss current market events, which further exemplifies TopstepTrader's dedication towards helping traders progress towards financial freedom.
Anthony Crudele and Michael Patak, Founder and Chief Visionary Officer of TopstepTrader, come from similar beginnings. They have each lost several large accounts early in their trading careers - $75,000 and $90,000 respectively. After such devastating losses, each spent pivotal time evolving their trading style and risk management practices. In return, both Patak and Crudele have used what they have learned to help thousands of traders through the resources TopstepTrader and Futures Radio Show offer.
"Our relationship with the Futures Radio Show embodies our commitment to educating futures traders," says Jay Rudman, the CEO of TopstepTrader. "I am confident traders who regularly listen to the show, and appropriately apply the disciplines suggested within it, will become better traders - and that's what all the sponsors want."
TopstepTrader offers anyone, anywhere the opportunity to progress as a trader, while proving their trading style and working toward becoming a funded trader. Futures Radio Show features top industry professionals on the show to discuss topics ranging from market trends to managing risk. Stay tuned for more information about TopstepTrader's featured segments.
Subscribe to the Futures Radio Show podcast on iTunes or YouTube to never miss an episode.
About TopstepTrader
TopstepTrader®'s vision is to be where the world goes to safely engage in and profit from financial markets. TopstepTrader evaluates traders' performance in the Trading Combine® - a real-time, simulated account. When traders follow the risk criteria and meet the profit targets, they receive a Funded Account® where they trade real capital, keeping their first $5,000 in profits and 80% thereafter. To date, TopstepTrader has funded thousands of accounts, averaging around 40 new funded traders a month. For more information, please visit us at topsteptrader.com.
About Futures Radio Show
The host of Futures Radio Show, Anthony Crudele, is a CME member who has experience ranging straight from the trading pits to trading millions of futures contracts. Crudele became one of the first to trade the E-mini S&P and has built a successful long-term trading career. On each episode of Futures Radio Show, Crudele invites industry leaders to discuss current market events. Topics include technical analysis, fundamentals, regulation, industry advice or events, and other key subjects in today's markets. For more information, please visit futuresradioshow.com.
###