Join our party and t
ake $50 off a new
Trading Combine or account Reset.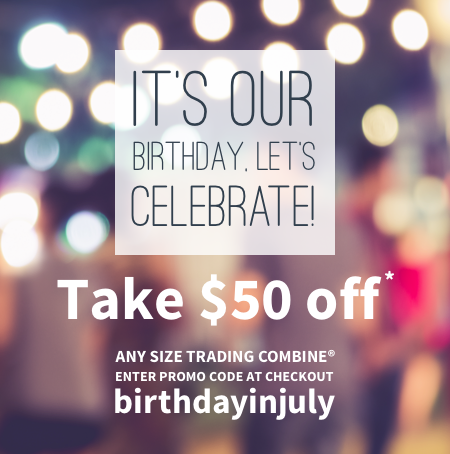 From all of us at TopstepTrader,
thank you
for allowing us to provide the industry's
leading funding opportunity.
With over 1,000 accounts successfully funded,
we're only getting started innovating your
experience... some announcements may even
be coming sooner than you think!
*Offer valid one time only for the first month of a new, any size Trading Combine or on a Trading Combine Reset. Discount may not be applied to current Trading Combine subscriptions or to a Funded Trader Preparation™ account Reset. We reserve the right to close an account if we believe this discount has been used multiple times by the same person or if the code has been shared with another trader.
Terms and conditions for this offer:
• To activate this offer: enter the promotional code at checkout before July, 25 at 11:59 PM CT
• Visit online to redeem the credit. Please use promotional code: birthdayinjuly
• Your subscription renews automatically each month at the full account price unless you meet the objective or cancel before next bill date