You could imagine in 7+ years funding traders that Topstep has had some great trades. But we never had a single $9,000 trade—that is until Chris H. from Japan went long GBP/JPY on September 9. Ultimately, that trade netted him $9,120 in profits and put him well on his way to $5,900 in withdrawals for September.
While that story is good enough for us to blog about it, what really makes Chris' story great is the resiliency with which he's traded with TopstepFX. His $5,900 withdrawal wasn't his first time in a Funded Account®; in fact, it wasn't even his first withdrawal from a Funded Account. And we have a feeling it won't be his last. Keep reading for how Chris identified this opportunity and how he found the patience to see it through.
---
---
The Trade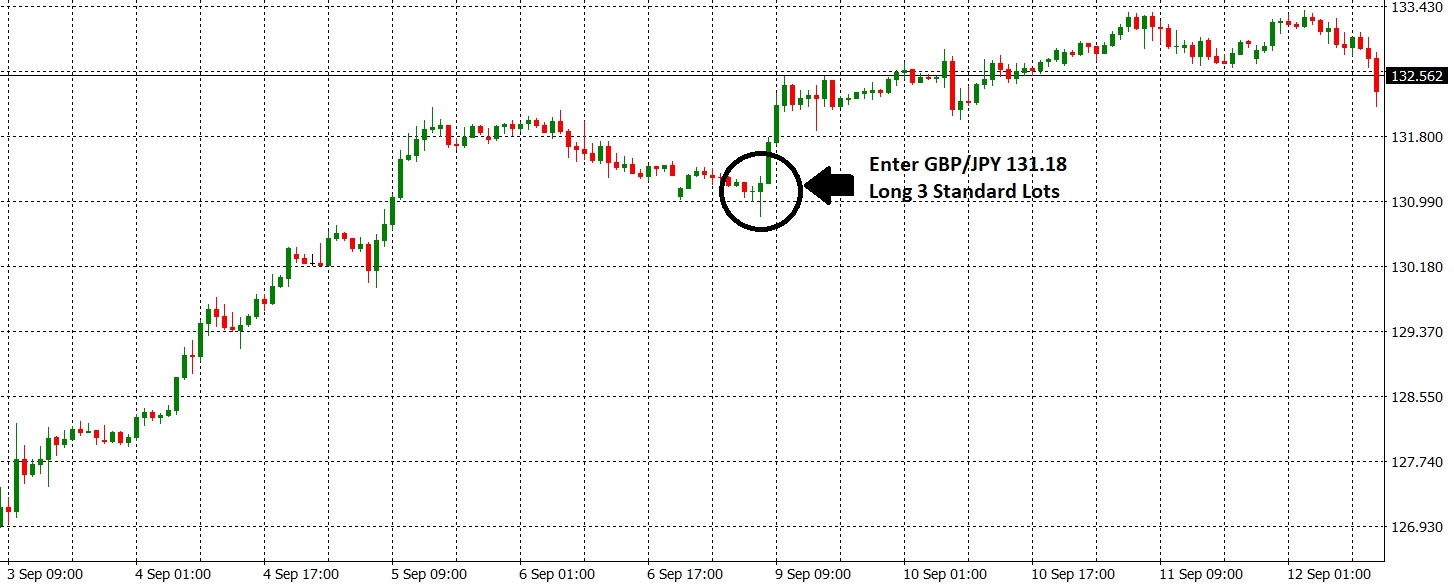 Heading into Chris' trade, GBP/JPY was in solid rally mode, having moved up four handles since the low on September 3. The price rallied to as high as 132 before a slow consolidation—as you can see on the 1-hour chart above.
What triggered Chris' trade was a strong candlestick reversal where the price sold off to 130.80 before rallying to close the hour higher at 131.23. That signal led Chris to initiate the position—long 3.0 lots of GBP/JPY at 131.18. He put his initial stop below the prior candle's low—a classic trade.
The Position Size (NOT Max Leverage)
One thing notable about this trade is that Chris was in a $500K Funded Account with $5,000 in capital at 100:1 leverage. Yet despite the fact that this was a choice set-up and Chris could have really levered up, he chose a little more than 1/2 max leverage for this position.
Why? Because even though this is a choice set-up, it could go the other way. Particularly since this was in the midst of the Brexit turmoil. At any moment, news could break that causes Sterling to sell off (or rally). Knowing the headline risk is out there, it's smart to not go max leverage into a GBP trade.
The Tell-Tale Sign "It's Working"
For anyone who has traded for a while, the tell-tale sign that a trade is working is if you don't get too much heat on it. And in that fashion, Chris' trade started to work out immediately. The next 1-hour candlestick was a straight green line higher, giving him confidence in the reversal signal.
And It Continued to Work Until He Cashed Out for $9,100
Chris' position continued to work for the next five days—and he stuck with it the whole time. That doesn't mean that he didn't experience any pain. Half of his unrealized profits were wiped out not once, but three times as the
chart below shows. Instead of panicking, Chris saw the pattern of higher lows and stayed with the trade, moving his stop up each time.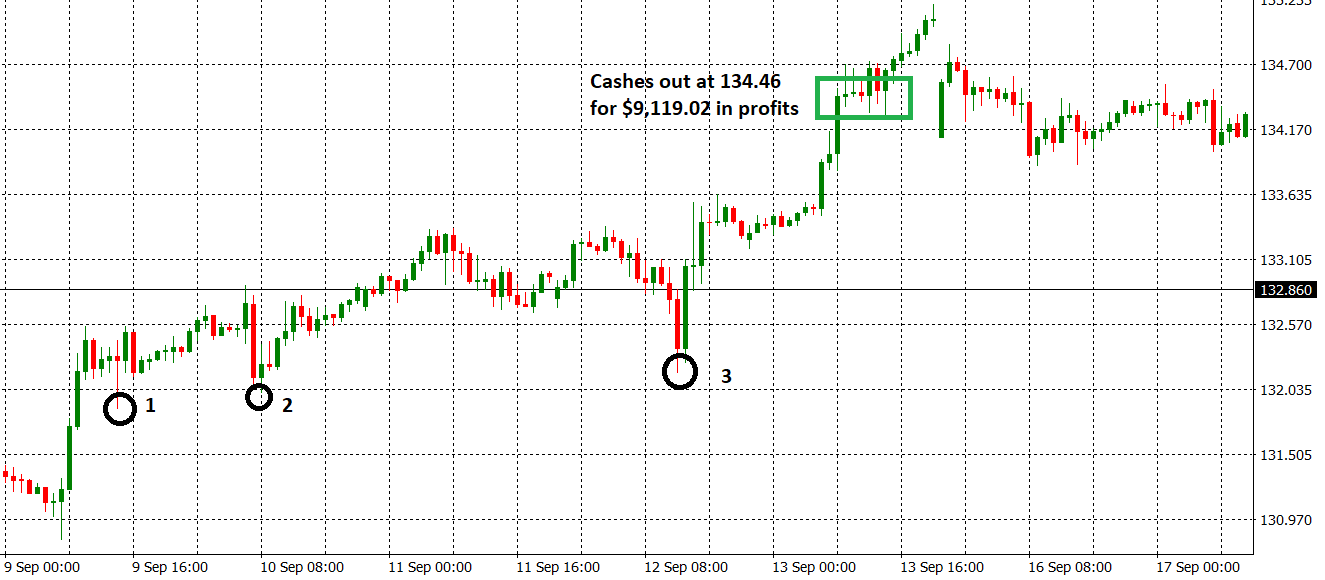 Then, the price broke out above resistance, and to new weekly highs before Chris closed out ahead of the weekend. All told, Chris rode the trade for 328 pips and $9,119.02 in profits over five trading days. This ultimately led Chris to take $5,900 in withdrawals in September.
The Best Part...
OK, it may not get much better than $9,000 in profits on a trade and $5,900 in realized, cashed out profits. But a close second is the story this tells about Chris and his TopstepFX journey. As we mentioned, this wasn't Chris' first time in a TopstepFX Funded Account. That first time, he withdrew over $600 before he broke one of the trading rules. The second time, he almost 10x'd that. We can't wait for his next Funded Account.
And neither can Chris. He said, "The second attempt was an exponential improvement over my first attempt, so I know I'm headed in the right direction. The improvement was so great that it in and of itself was an encouragement to continue my journey with Topstep."
We love funding traders like Chris that are committed to their journey and improving their trading.
If you enjoyed reading this funded trader story, subscribe to our YouTube channel for the latest interviews with Topstep users. And if what you saw here intrigued you, find out more about how to get your own Funded Account with us.