The last four products competing in Topstep Market Mania 2020 faced-off yesterday with two spots in the Championship match on the line. It was a bareknuckle brawl, but in the end, a pair of Equity indices rose above the fray. Read on for full results, analysis, and the updated leaderboard.
---
---
Semi-FInal #1: ES

(
+3.52%

) def.

NQ

(

+2.22%

)

The historic Beta of the Nasdaq should have been a major advantage for the NQ on a day that saw equities across the board skyrocket. But the 500 largest companies in the United States by market cap had other plans.

NQ is a popular product among our traders, and we saw many brackets choose the tech index to go all the way. However, it will now be at least another year before they hoist the banner. Hopefully, by then AAPL will be trading at $1,000 and we can all retire.
Semi-FInal #2: YM

(
+3.33%

) def.

ZB

(

-0.52%

)

The Cinderella run by the last remaining non-Equity product came to an end Wednesday as the 30-year Treasury Bond future turned into a pumpkin when the clock struck 4:00 PM CT.

With stocks soaring, by midday it was apparent that only a Hail Mary from the Federal Reserve could save Bond futures from certain doom. However, Jerome Powell decided to buy every other bond in the universe and the YM cruised to victory.

Kudos to the 2018 Market Mania Champion ZB for staying hungry and outlasting so many flashier products. As for the YM, it's time to prove the DOW is more than just the index people over 50 quote when talking about the stock market.
Updated Bracket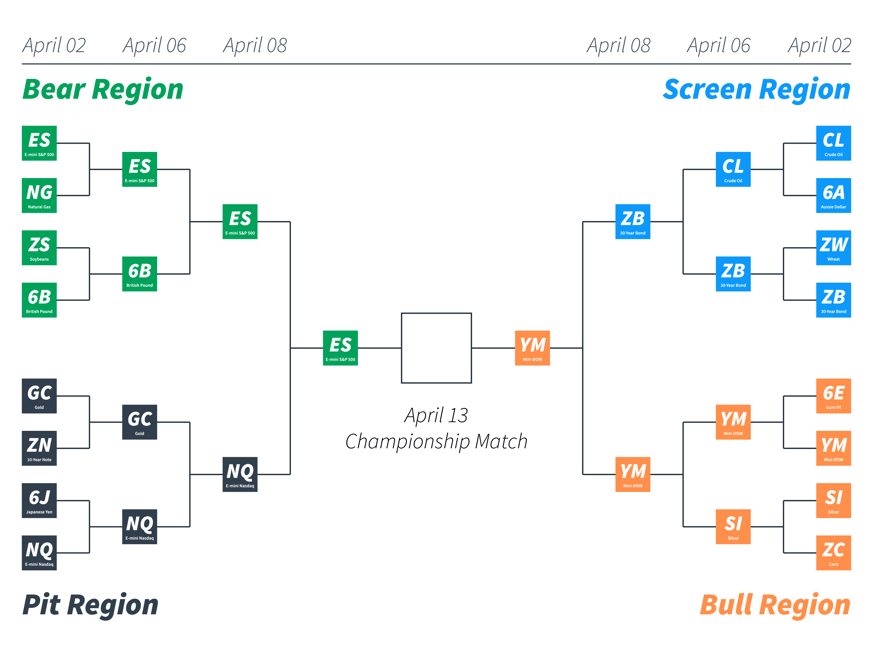 Perfect Bracket Club
There were 1,154 brackets filled out for Topstep Market Mania 2020. If each match were a coin flip, we'd expect there to be only 0.07 perfect brackets after 14 games (on average). But surely due to the skill of our users, we still have 1 perfect bracket remaining after Round 3!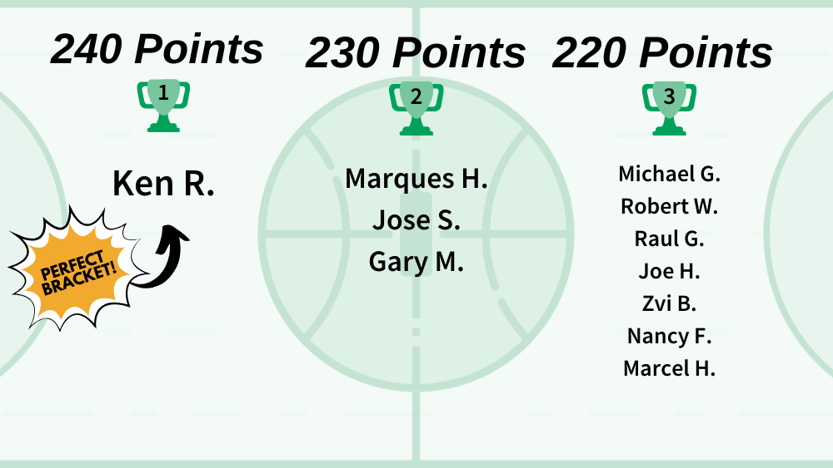 Congratulations to Ken R. for slapping probability in the face!
Leaderboard
At this point, the Grand Prize is a binary option. If the ES wins, Ken R. will be our champion with a PERFECT BRACKET! Frankly, I never thought this outcome was remotely possible. If the YM wins, then Gary M. will be victorious.
But remember, there are still 9 addition free Trading Combines on the line. Here's our updated leaderboard going into the Finals: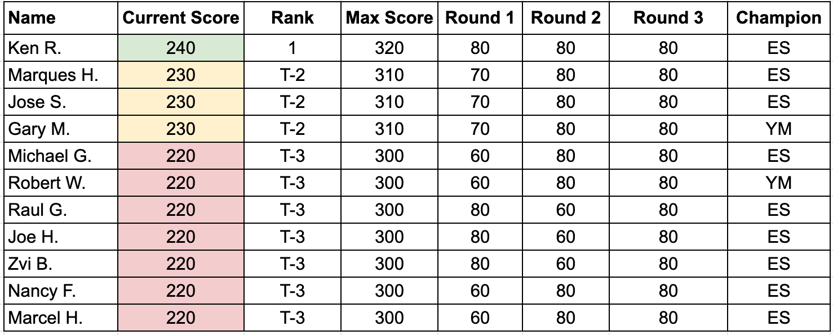 Great job everybody! And remember, the 2020 Market Mania Championship Game tips off on April 13... well actually at market open on the evening of April 12, but you get the picture. Have a nice weekend everyone!