It feels as if this summer is missing something. For instance, a large athletic competition between multiple countries. To fill this void, today we unveil the Topstep International Classic—a bracket competition between 16 international stock indices. We are also giving away ten free first months in a Trading Combine to the top-scoring brackets. Now's your time to get in the game!
---
Ready to get funded?
---
How Does This Work?
The Topstep International Classic is a bracket competition between 16 national stock indices. Below is an empty bracket template: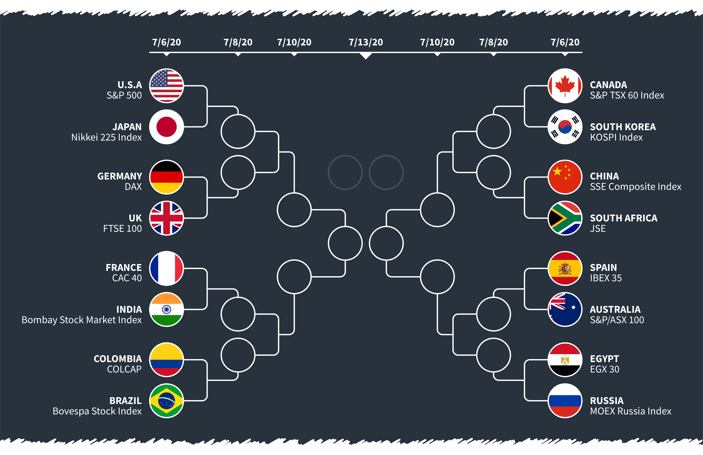 In each round, two countries will "play" each other with the winner being determined by the highest percentage change in price on the specified date. Positive percentages always beat negative moves. Smaller negative moves defeat larger negative moves. Think about it this way—if you were long the same amount of money in each index for that day, which would you rather own? That is the country that will advance.
We measure this percentage move by comparing the previous closing price, to the new closing price on the day the round is played.
Each "round" will be played on a specific date. For instance, the Round of 16 will be played on Monday, July 6 and feature 8 games between 16 stock indices. If for whatever reason, a national exchange is closed on that day, we will rely on the previous day's price action for that index.
How are the Brackets Scored?
The dates of each round and the number of points awarded for each correct pick are as follows:
| | | | |
| --- | --- | --- | --- |
| Round | Date | Correct Pick Earns | Total Points |
| Round of 16 | 7/6/2020 | 10 Point | 80 Points |
| Round of 8 | 7/8/2020 | 20 Points | 80 Points |
| Round of 4 | 7/10/2020 | 40 Points | 80 Points |
| Championship | 7/13/2020 | 80 Points | 80 Points |
| | | Total: | 320 Points |
As you can see, every bracket will score somewhere between 0 and 320 points. The bracket earning the most points will be crowned winner—the next highest scores will win the runner-up prizes.
What Do I Get If I Win?
The Grand Prize winner will receive a free month subscription in a $150K Trading Combine.
Two First Prize winners will each get a free month subscription in a $100K Trading Combine.
Three Second Prize winners will get a free month subscription in a $50K Trading Combine.
Four Third Prize winners will get a free month subscription in a $30K Trading Combine.
How Do I Enter?
Just fill out a bracket by clicking this link and following the instructions on the landing page. The deadline for submissions is July 2. The first day of the tournament is July 6. If you run into any questions, please let us know in the comments.
Where Can I Find a Leader Board?
We will send periodic updates to the email you provide. Don't worry, we won't send anything besides competition updates unless you specifically want them. We'll also breakdown the results on the Topstep Blog.
Some Legal Considerations
You can find the official rules by clicking this link. Basically, so long as receiving a prize is legal where you live, we'll do our best to accomodate you.
Have fun and stay safe!