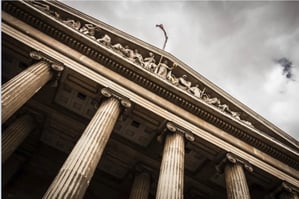 You might think Tom Baldwin, investor and founder of the Baldwin Group Ltd, got lucky. In 1982, he left his job as a product manager for a meat-packing firm and leased a seat on the Chicago Board of Trade with just a $25,000 stake. Six years later, he was one of the largest individual traders of Treasury Bonds ($ZB), often trading as many as 20,000 contracts - $2 billion face value - in a single day. And he did this with absolutely no trading experience.
Sounds pretty lucky, right? But here's the rub: traders have to make their own luck.
Read on for Baldwin's four tips on how to do just that.
---
Think you have what it takes to be a Market Wizard?
---
This week, our series of insights from Jack Schwager's Market Wizards takes a look at Tom Baldwin, who frequently traded more than $2 billion in notional value in a single day. Currently, Baldwin is the chair of Baldwin Group Ltd. (Check out our last post "Turning $2,000 to $70,000 in 1 Year - on the way to Tens of Millions.")
Don't Forget that Trading Takes Effort
Baldwin says he knows someone isn't going to make it if they aren't willing to do the hard work.
"Most people think there is a 50/50 chance on any trade," he says. "They don't think there is anything more to it than that."
In Baldwin's case, he entered the market when the T-bond pit was enormous, with 500 traders competing against one another. Jumping into that chaos without any experience could have set anyone back on their heels. But Baldwin says he "stood there six hours a day, all day, every day" learning how to trade.

That goes to show that you have to be in the market in order to profit from the markets.
Don't Focus on the Money
It probably seems illogical, but Baldwin says traders need to have a total disregard for money.
Most people see a loss and translate it into something more tangible - like the cost of a house or their week's pay. Unfortunately, that habit causes them to hesitate. They stop thinking about their position and start worrying about money. "The minute they hesitate, the market just keeps going," says Baldwin.
Don't Let Success Go to Your Head
Granted, you have to have confidence to be a good trader. And a winning streak is definitely an ego boost. But Baldwin warns against letting success cloud your judgement.
"The best traders have no ego," he says. "You cannot let your ego get in the way of a trade that is a loser; you have to swallow your pride and get out."
Don't Be Impatient
Baldwin says the average trader isn't selective about their spots: "When they see the market moving, they want to be in on the action. So, they end up forcing the trade rather than waiting patiently."
Oddly enough, Baldwin applies that tip to losing trades, too. So while he advises you to to have the discipline to get out when things head south, Baldwin also recommends looking for the optimum time to bail. You may not end up with a winner, but a little patience may "turn a five-yard loss into a two-yard loss."
What do you think of these takeaways? Put them in the comments below.