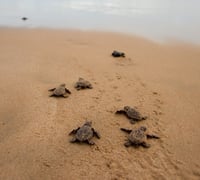 Is great trading a learned skill or an innate ability?
If this sounds like a question that could be at the heart of a movie, that's because it was. In Trading Places, two brothers that ran a commodities trading firm made a $1 bet on whether they could simultaneously turn a scam artist and criminal into a successful trader and a successful trader into a criminal. (If you haven't watched it, you should!)
But the question of whether great traders are born or made was also the subject of a real-life experiment by Richard Dennis, a Chicago trading legend, and his partner, William Eckhardt.
Dennis - who had made hundreds of millions trading - believed that great trading was a result of a disciplined approach; a trader just needed to be taught rules and given risk management parameters. Eckhardt believed that traders like Dennis had an innate ability and underlying talent that allowed them to be successful.
In the end, Dennis was proven right - and he added $150 million to his firm's bankroll in the process. Here's how.
---
We're looking to back talented futures traders with $30,000 to $150,000 in buying power.
---
In 1983, Richard Dennis took out an ad in the Wall Street Journal, Barron's and the International Herald Tribune asking for applications for the position of commodity futures trader. He promised traders the opportunity to trade the firm's capital, while he would also teach them his moneymaking secrets.
In order to make it through the interview process, the traders-to-be jumped through a number of unusual hurdles. Dennis, to prove his point, wanted the traders to have a diverse mixture of interests. As Michael Covel puts it in The Complete TurtleTrader, "He selected both far-right-wing conservatives and bleeding-heart liberals. A high school graduate and an MBA were picked from the thousand-plus applicants who threw their hats into the ring."
But "he wanted students who showed a willingness to take calculated risks," Covel says.
The group of traders was named the Turtles - after Dennis mentioned that he wanted to raise traders like farmers in Singapore raised turtles. The Turtles were taught a trend-following system that included rules on when to enter and exit a trade, position sizing criteria and risk management principles. Basically, they were given a trading plan and asked to execute it with minimal discretion.
Today, Dennis' system could easily be programmed into a computer. Traders would try to buy or sell markets trending up and down - capturing big moves, while cutting losses short on failed breakouts. For example, Covel says that traders would buy a 40-day high and then hold the position until it closed below the 20-day low.
With this system, they would take many small losses before they were able to ride the wave of a long-term trend. As a result, trading for the Turtles was tedious. They would often make all their yearly gains in a one or two week period, while grinding away the rest of the year on trades that went nowhere. As a result, they would also endure large periods of drawdowns.
In hindsight, it may seem like sticking to Dennis' rules would be easy. After all, within five years, the Turtles turned million-dollar accounts into tens of millions, making Dennis more than $150 million in the process.
But that in and of itself did not solve the debate of whether great traders could be made. What did solve the debate? The fact that the Turtles took the principles they learned with Dennis into their own careers and firms. Many of the Turtles went on to manage billions of dollars and putting up tremendous track records. And with that, they solved a great debate encouraged by a Hollywood movie.
Think you have what it takes to be a Turtle? Have any questions or recommendations? The comments below are open.