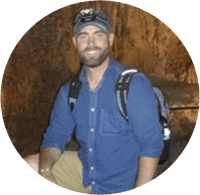 When Jason G. in Lena, Wisconsin first started trading, he took the same path as most traders: he opened a brokerage account and then proceeded to blow it up.
That experience led him to TopstepTrader and eventually to a $150,000 Funded Account™. Less than two months in, Jason was helped by a four-day winning streak that netted him more than $3,000 in profits.
We caught up with Jason to talk about his journey, how he's been successful early in the Funded Account, and what he wishes he knew before he became a funded trader.
---
Think you can profit and manage risk using $150,000 of our money?

---
TopstepTrader: Jason, appreciate you taking the time to talk. I don't want to jinx you, but you've put up quite a month trading in your Funded Account, including a four-day winning streak where you made $3,350 in profits. What is clicking in the markets right now?
Jason: The one thing that I've done well over the past month is limit emotional mistakes. Every time I hit a losing streak, it's because I let my emotions get out of hand. I know I am not the first to say it, but hope is not a trading strategy - and when I get emotional, I have the tendency to do something I shouldn't. That's costly.
TopstepTrader: How do you know when you are getting too emotional about your trading?
Jason: That's a tough question to answer. You just know. Like most traders, before TopstepTrader, I was over-trading and chasing markets. With TopstepTrader's rules, I've learned to be more disciplined - but it still happens.
For example, earlier this week, I jumped the gun on a Crude Oil trade because I didn't want to miss it. So I pre-empted my trading strategy and got in. I was stopped out of the trade for a decent sized loss. But what gets me is that had I waited for confirmation from my strategy, I would have turned that loss into a big gain. I was stopped out $0.06 off the lows before the price shot $0.50 higher.
TopstepTrader: That's a kick in the gut. Let's take a step back and talk about how you first got into trading.
Jason: I started trading forex three-and-a-half years ago, and then began trading futures three years ago. Before that, I was in financial services - selling products. So trading was a whole new world.
I became associated with a trading school and learned to look at institutional order flow. I like it because institutional buying and selling causes markets to move. It makes sense with how I view the market. In that strategy, I take momentum and reversal trades primarily looking at candlestick patterns.
TopstepTrader: What is it about that strategy that fit you well?
Jason: There is room in the market for a lot of different strategies to work. It all comes back to your own head. You have to define who you are and then look for a strategy that fits that.
Different traders and market participants have different time tables and want different things out of the market. Some may be looking to capture whole trends over months while others just look at minutes, hours and days.
So there is no excuse for a dedicated trader to struggle with finding a strategy that works with the way they want to trade.
TopstepTrader: But it sounds like you had traded for a while before you found this trading strategy. What was that process like?
Jason: I knew getting into trading that it would take a while. Now, I realize that it takes three to five years to get in a groove. You have to have a level of emotional maturity and understanding that is rare without the pain of losses.
Like many traders, I started with my own brokerage account. And then blew that account up. A couple times. I was trading too large. I was angry at the market. But I was mostly angry with myself.
With experience, you stop yourself from playing the "should've, could've, would've" game and focus on what you can do to improve for the next trading day.
TopstepTrader: That's great. If you could offer advice to someone with less trading experience, what would it be?
Jason: There are three keys to trading well. They're easy to identify, but not easy to put into practice.
First, you have to have a strategy that you can rely on - that you have faith in. It should help you identify low risk, high probability trades. That's not easy. Again, it should fit in with your overall personality and view of the market.
The second key is to work on your mental strength. You will never master that aspect, but you have to continue improving and learning from your mistakes. It is an exhausting feeling to think that you keep making the same mistakes over and over again.
Finally, you have to be optimistic. If you can't handle failure, you will never do well. Failure is integrated into trading. You can't escape it. So you have to learn to live with it - or you have to stop trading.
TopstepTrader: Thanks for the time Jason. This was really interesting and helpful. Best of luck in the markets!