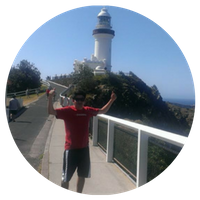 Mauricio J. in Colombia originally thought TopstepTrader was something only professional traders might find useful. But since joining, he's used the lessons learned in the Trading Combine® to earn a Funded Account® and begin profiting in markets. Since earning a Funded Account in early October, he has withdrawn $5,323 in profits.
Critical to Mauricio's success has been the fact that he only trades actively two or three hours a day, using the rest of the time to back trade strategies and work on his performance.
We caught up with Mauricio to learn more about his experience, what lessons he would share for other traders, and how he plans to meet his short-term and long-term goals to be a consistent trader and spend more time with his family.
---
Want to join Mauricio in a Funded Account?

---
TopstepTrader: Thanks very much for talking with us. The first question is an easy one - how long have you been trading futures?
Mauricio: I've been interested and aware of stock and financial markets for a while, but I've only dedicated myself to markets for the past year and a half.
TopstepTrader: What's been going so well for you recently?
Mauricio: It's a mixture of dedication and consistency. Currently, trading is the only thing that I dedicate myself to. But I've also joined a trading group, and I believe that it is helping me to grow as a trader in an impressive way.
TopstepTrader: Tell me more about the trading group. How has it helped you?
Mauricio: The trading group was designed with the goal of helping members improve their trading styles and to consistently get better results. When the group started, we were around eight people. Now we have more than 50 people from countries like Colombia, Mexico, the Dominican Republic, Argentina, Bolivia and all around Latin America. To be honest, it has been a great experience because I learn from every single person in the group every day.
TopstepTrader: It seems like you trade a variety of products - can you talk a little about how you approach trading?
Mauricio: Sometimes it is essential to move from one market to another to find the structures that benefit your trading style. Sometimes I move to another market because of the volume. If there's volume, there's usually more velocity to the move, which causes positions to move more. But that also depends on the structure. You want volume and follow-through on signals, but not erratic behavior.
TopstepTrader: Can you briefly go over your strategy (times you trade, length of trades, where you place your stop orders, etc.)?
Mauricio: I trade in the morning, and typically for a maximum of two or three hours. I use a conservative strategy - obviously, depending on what the market offers.
My preference is to take just one or two trades maximum, so I can meticulously analyze the market conditions. But when I can be aggressive, I am aggressive.
The most important part of being consistent for me has been sticking to my trading plan. I also pay close attention to the risk / reward ratio. That is something that TopstepTrader actively promotes, and I think it's helped me minimize my losses.
TopstepTrader: I see your largest daily loss so far has been $199.32. How have you been able to keep your losses so small?
Mauricio: This is something that I actually put in my trading plan, and I am almost too rigorous with it. But it's the result of an experience I had in the Trading Combine. On my third day of trading, I was up $700, and I became overconfident. The next day, I did everything contrary to what my trading plan said and lost trade after trade. At the end of the day, I was one tick from losing the test.
From that day on, I took risk management a lot more seriously. Plus, I learned the market will always be there the next day with new opportunities.
TopstepTrader: Conversely, you had a couple days where you gained nearly $1,000 per. What did you do on those days to ride your good trading?
Mauricio: They were very good days. Unfortunately, I don't remember very well what was going on in the market at the time. I do remember that the volume was good - which allowed me to take advantage of the trade set-ups.
TopstepTrader: If you had three pieces of advice for someone trading in our program, what would they be?
Mauricio: The most important tip is to follow your trading plan. If you don't have one, design one.
And that's really my second tip: invest quality time in designing your strategy (5 Steps for Creating a Great Trading Plan in 2018). My plan has 3:1 reward-to-risk, and I back test it a lot before I use it in my live account.
Finally, I think it's important to find a motivation other than money. That makes the psychological part of trading is a little easier to take. For me, the most important thing is the freedom. The money is important, but the idea of working eight to 10 hours per day is not for me anymore. That's why I decided to invest my time wisely and learn how to trade.
TopstepTrader: Finally, since trading is an ever-learning process... What are you still working on in your trading?
Mauricio: I am currently backtesting a strategy based on some divergences. I think it has very good potential.
TopstepTrader: Thanks for the time Mauricio. Keep up the good work!