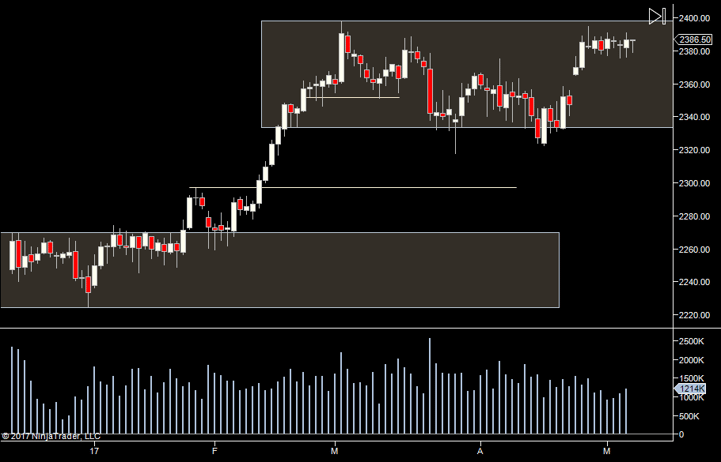 Well that week sucked. Certainly in terms of range but if you were watching the range and profiles, we actually had good opportunity on most days.

Let's just repeat the recap of where we are. It's been the same each day this week as we've been in the same place each day....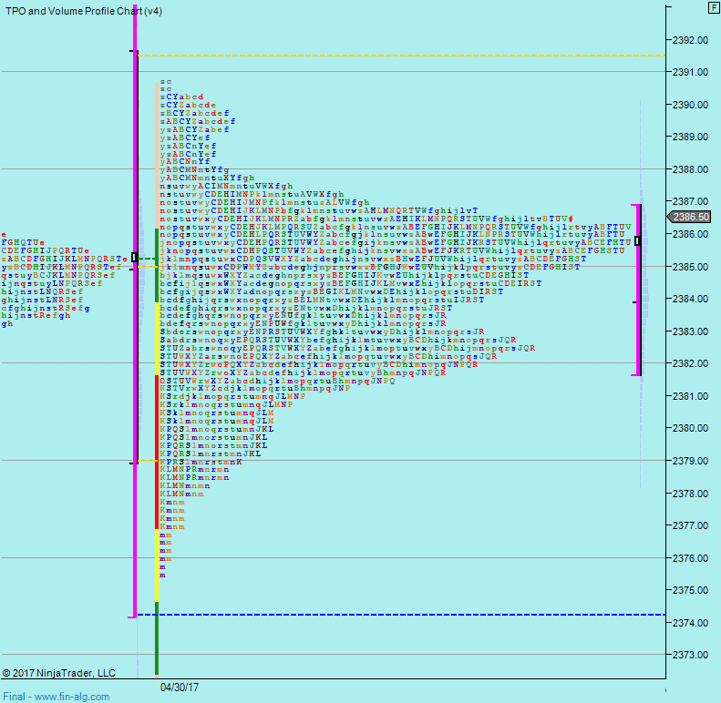 The range filled out some more yesterday, so the chop zone is now 2381.25 to 2387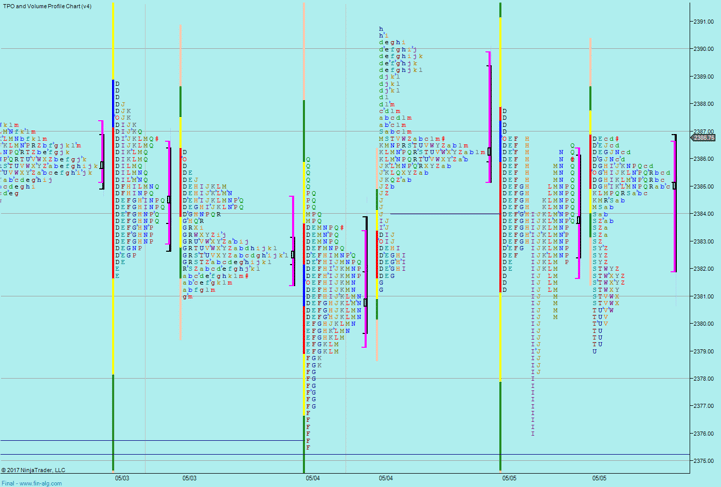 Yesterday we had the chop area at 2381.50 -> 2387.25. We opened and went 2 ticks through the high of the chop area before
reversing
down to 2381.25, 1 tick below the chop area. We then moved up. So those were our early opportunities. After that we had a drive down towards the weeks low, failed to get there and popped up again.
So while it was an ugly day, we had some good places to enter.
Today, same deal again - no trades between 81.50 and 87.25, presume the range is holding, be on the lookout for a break. Note though - that when we range like this all week - Friday is usually pretty poor.
Plan
- Low expectation day
- Waiting for a break - whether that's today or in a number of days time, it's hard to know.
- At a major inflection point at the same time, so wary of headfakes
- No trading between 81.50 and 87.25 unless it's off the open
- A wait & see day - there's going to be good opportunity when this breaks, so waiting for that
Weekly Numbers
Range - 2375.50 -> 2390.75
Value - 2381.75-> 2386.75
S1 - 2365.75, R1 - 2394.75
Daily Numbers
Range - 2376 -> 2387.75 / 2390.75
Value - 2381.75 -> 2386.25
Globex 2379 -> 2387
Settlement – 2385.50
Today - 2381.50, 2387.25
Long Term Levels - 2178.75, 2129.50, 2099.75, 2084, 2078.75, 2000.75, 2400