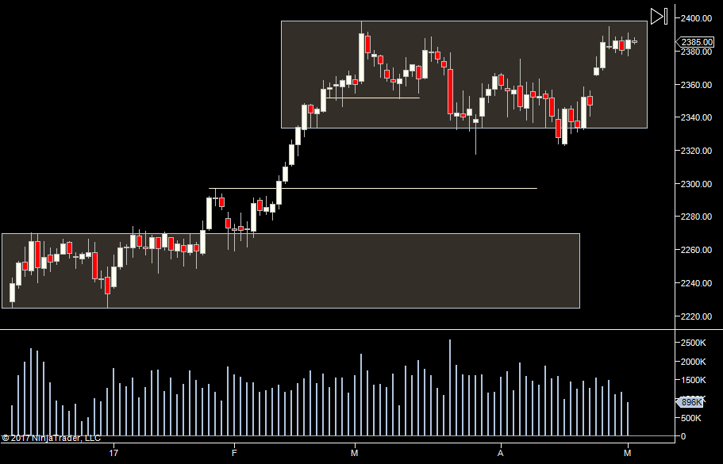 We are at the top of the range, not hit the top yet but this is a line in the sand. So we have to look out for a headfake up, a reversal down from here OR a break of the range upside and a move up to new highs.

Which is saying it is going to go up or down.

Headfake - will pop the top and see absorption and sellers piling in
Break upside - will see a move up without the stopping volume we see in the headfake, for me the safest option is to go long when it falls back to the old high
Reversal down - any downside move with overwhelming volume

So while we are saying "it will go up or down" - we do have some things to look at for confirmation of which scenario is playing out.

In terms of "which prices to trade" - well - it's anywhere around here. No specific price, just specific action to look for.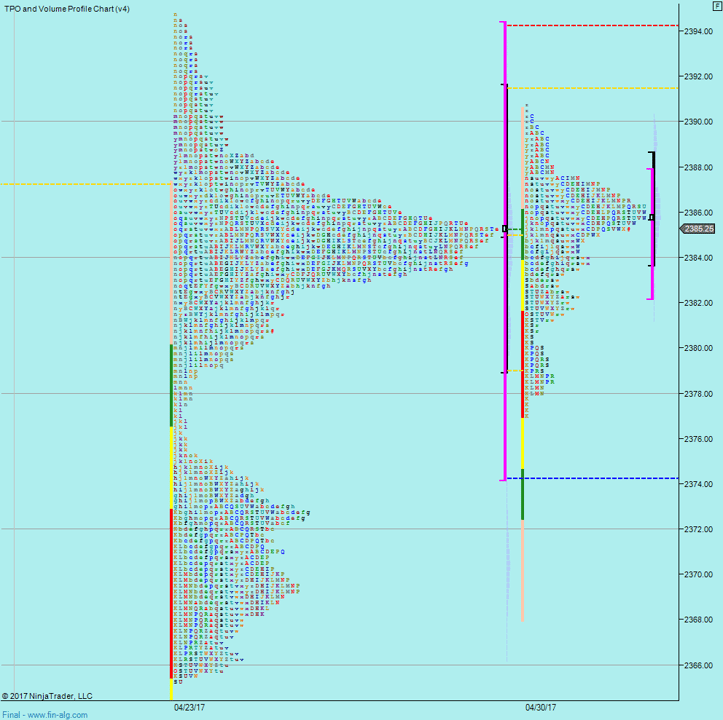 Yesterday was a low volume day with most of Europe closed. So while trying not to read too much into that - we did start the week trading around the bulk of last weeks action. Watching 79.25 and 88.50 and not too keen to trade in the middle.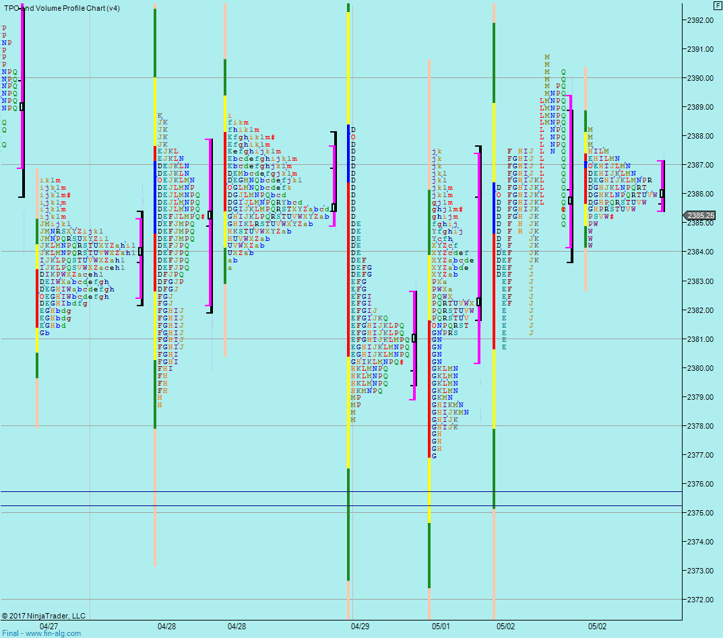 A lot of overlap in recent sessions. So again, not looking to trade in the middle of it.
Plan
- Waiting for a break - whether that's today or in a number of days time, it's hard to know.
- At a major inflection point at the same time, so wary of headfakes
- No trading between 79.25 and 88.50 unless it's off the open
- A wait & see day - there's going to be good opportunity when this breaks, so waiting for that
Weekly Numbers
Range - 2365.25 -> 2395.75
Value 2375.25 -> 2394.25
S1 - 2365.75, R1 - 2394.75
Daily Numbers
Range 2377 /2380.75 -> 2390.75
Value - 2384.25 -> 2389.25
Globex 2384.25 -> 2388.25
Settlement – 2385.50
Today - 2379.25, 2388.50
Long Term Levels - 2178.75, 2129.50, 2099.75, 2084, 2078.75, 2000.75, 2400