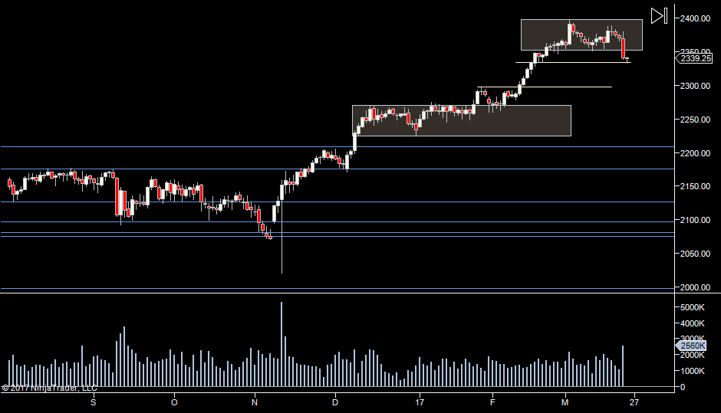 "The sky is falling", "Market loses confidence in Trumps plan", "a 5% stock market correction is coming"...

Funny how the financial press didn't mention any of this impending doom yesterday morning. Today they are all reporting financial armageddon.

Bottom line is they've not had that much to say for a while as the markets have been flat. Now it's moved, they need to squeeze the most 'news juice' out of it.

If you want to trade today well - you really need to tune that all out.
Regardless of where we are headed, the move we put in yesterday was about on par for the days we were seeing in September, early October last year. It was not a massive sell off by any means. We did see a lot of
absorption
yesterday by bidders and the market was just driving straight through them. So it does look more like longer term players.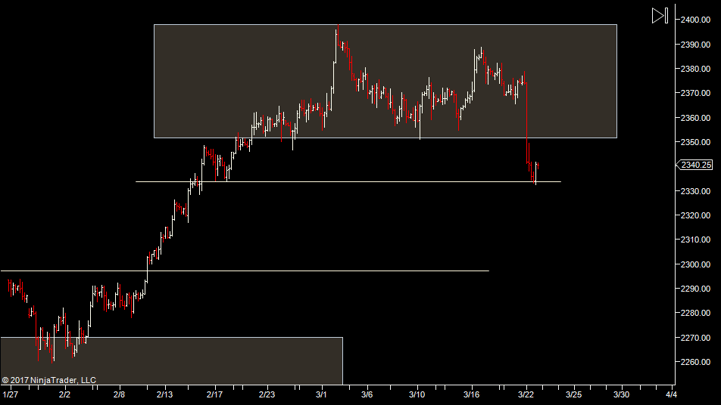 We have broken through our 'presumed
range
' (so much for that!). Where we got down to so far is the 33.50 level, a minor support area from mid-Feb. We have another at 2297, which is also minor/untested.
Below that is the range we were stuck in at the start of the year which tops out at 2269.75. So I have mu eye on those 3 areas for a reaction.
No daily/weekly profiles today as I don't think they'll have much meaning after that big drop.
Plan
- No early trades, let the market show it's hand
- Jump on board any signs of a sell off and try to
scale
into a trade
- Careful to the upside unless we have massive volume. I think the upside will be safer if we can move up for a decent amount of time.
Weekly Numbers
Range - 2332.25 -> 2378.75
Value 2344.50-> 2378.50
S1 - 2357.25, R1 - 2390.25

Daily Numbers
Range 2338 -> 2378.75
Value - not used today
Globex 2332.25 -> 2341.75
Settlement – 2342.25
Today Only - 2269.75. 2297, 2333.50
Long Term Levels - 2178.75, 2129.50, 2099.75, 2084, 2078.75, 2000.75