Last week, we debuted Topstep's first Weekly Trader Challenge. The idea was to provide a venue for our social community to share their most valuable trading advice. In prompt one we asked: what is your best tip for passing Step 1 of the Trading Combine? We received many amazing responses and thought we'd breakdown a few of them here. Thanks again to everyone who participated, and be sure to check out the Sunday Weekly Kickoff email for the latest Trader Challenge.
---
---
Best Advice for Passing Step 1 of the Trading Combine?
Carlos M.
"Play it safe, we've got plenty of time. Follow the rules and just play big lot sizes if you are big up for the day. If not, small size lots and patience."
Trend Trader
"I had chosen a 50K account when I started. I didn't really have a solid system or enough time to understand how the dynamics of the market can change so much day to day or minute to minute. I blew up that 50K so many times. Now after being funded for a 100K account, I am much more relaxed, I don't worry about the max drawdown or max daily limit. I am in complete control. I trade the 100K with the 50K risk parameters. The best tip is to make sure your emotional and mechanical risk parameters match your trading style, your trading system, and most of all your account size. It's a journey to find this formula, but it's a recipes for long term success."
Greg D.
"Know when to walk away. All of my resets occurred because I couldn't walk away when my trades weren't working. Coming back with a clear head is key."
Michael Patak
"When I did the Combine before Topstep existed (when I was being evaluated at a Prop firm in Chicago). I learned to stay patient and wait for high probability setups to happen."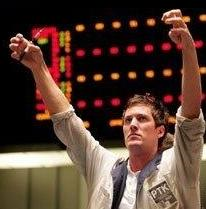 M.P. jumping in on the action
Carlton H.
"Be Patient. Wait for YOUR setup. It will come, and you will make Money, but wait for it. Don't trade just because there is random price action."
Blair B.
"Don't micromanage a trade once you enter. Set your stop loss and profit target and then walk away. Now it's simply a binary event."
Brent S.
"Know that your A+ System and your best and Safest Trades will not likely reveal themselves every single day. Recognition and Patience are key. Your intimate understanding of the morning mood of the market will give you the best edge. Evaluate your edge before you get ready to trade. What mood in Mr. Market in this morning? Expansion Day? Balancing Day? Drifting sideways Day? or Ready to Rumble and Responsive Day? What strategy will you select to match this Day? Adapt to that, and be ready to stay flexible, and take one best trade of the day."
Eddie Horn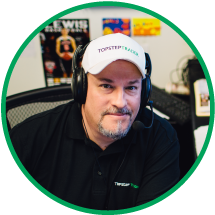 "With hundreds of conversations with traders from every walk of life, I have learned that Step 1 gives us the opportunity to punch the gas and see what this baby can do. What I'm saying is there aren't many rules to hold one down and basically Step 1 is a challenge to see if you actually can profit. Tips: keep adding winners to the account, no matter how big or small. Don't moan or complain about how small they are, take what the market gives you. Don't second guess losing trades. Exit them and look for the next opportunity. The secret here is there is no secret, it's just pedal to the metal and don't forget to have some fun with it also. Don't be reckless but by all means, keep moving forward the best you can. Up next: Step 2."