Being able to recognize market conditions, and knowing what factors influence those conditions, goes a long way to optimizing your bottom line in the trading world. It's a skill that doesn't come easily, and can take years of market participation to master, but once acquired can prove to be considerably valuable.
The break in the S&P 500 futures last Friday (Jan. 31) was the kind of move professional tape readers live for. Being the last day of the month, the stage was set early with a combination of earnings reports, Coronavirus headlines, the presidential impeachment trial, and economic releases; including the University of Michigan consumer sentiment report, PPI, OPEC crude oil production numbers and the Baker-Hughes rig count.
---
Earnings had taken center stage for most of the week, but growing global concerns over the outbreak of the fatal Coronavirus took over. What could have easily been mistaken for some early end of the month profit taking, quickly turned into wave after wave of relentless panic selling, as a barrage of negative headlines began to hit the tape. It was ruthless.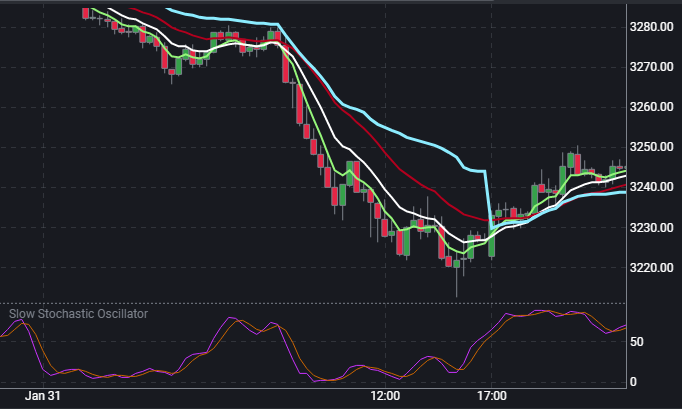 15 minute ES chart
All the good news in the world couldn't hold the S&P 500 futures up that day. If you were lucky enough to catch on early to what was happening, you probably had a pretty good trading day, or at the very least walked away unscathed. One particular Topstep trader stood out to us that day, so we're going to tell you a little bit about him.
Don't Fight the Tape
We want to give a special shout out to Topstep funded trader Jon F. from Arkansas. Being a loyal Topstep trader since 2011, I think it's safe to say Jon has seen all kinds of different market conditions, and he really nailed it on Friday's move. Holding true to his convictions, he fought off the urge to "catch the falling knife," and waited for an opportunity to sell. He went on to rack up a stellar daily profit of $8,106.90 trading from the short side!
This is a great example of how a veteran trader had the ability to understand what the market was telling him and act on it. We look forward to telling you even more about Jon F, but for now, here are some of our other funded traders stories. Let them tell you how they did it…
Tony H. from New York: https://blog.topsteptrader.com/funded-trader-tony-h.-from-new-york
Andres H. from Nicaragua: https://blog.topsteptrader.com/funded-trader-andres-from-nicaragua
Charles B from Idaho: https://blog.topsteptrader.com/three-years-as-a-topstep-funded-trader
If our funded trader stories didn't get your blood pumping, then maybe our list of highest funded trader withdrawals in 2019 will…
Part 1: https://blog.topsteptrader.com/funded-trader-andres-from-nicaragua
Part 2: https://blog.topsteptrader.com/10-biggest-withdrawals-of-2019-part-2
These are truly the kinds of stories we love sharing with you here at Topstep. For us, there's no greater satisfaction than taking a trader under our wing, and cutting them a BIG check at the end of the month. In January alone we paid out more than $86,000 to our funded traders. It's high time you jumped on board to get yourself a piece of these payouts!