"The EU is in an existential crisis. Everything that could go wrong has gone wrong." - George Soros, May 29, 2018
Populism and anti-EU sentiment. Trade wars. Brexit looming. The global fundamentals underlying every major currency pair is on shifting sand — all the while interest rates are normalizing.

But in this environment, the U.S. Dollar caught a bid. Since highs above 1.25, the pair shed 6%, briefly breaking below a long-term trend line that supported price during the 2017 rally (red line). Right now, the pair is consolidating between the August/September 2017 high near 1.21 and the October low, at 1.1550 (black lines).
While I tend to believe the EUR/USD bounce appears temporary, with expectations that the market will head down towards 1.13, I think it's always important to look at the opposite case.

For the U.S. Dollar bulls out there, here are the three biggest risks to continued Dollar strength.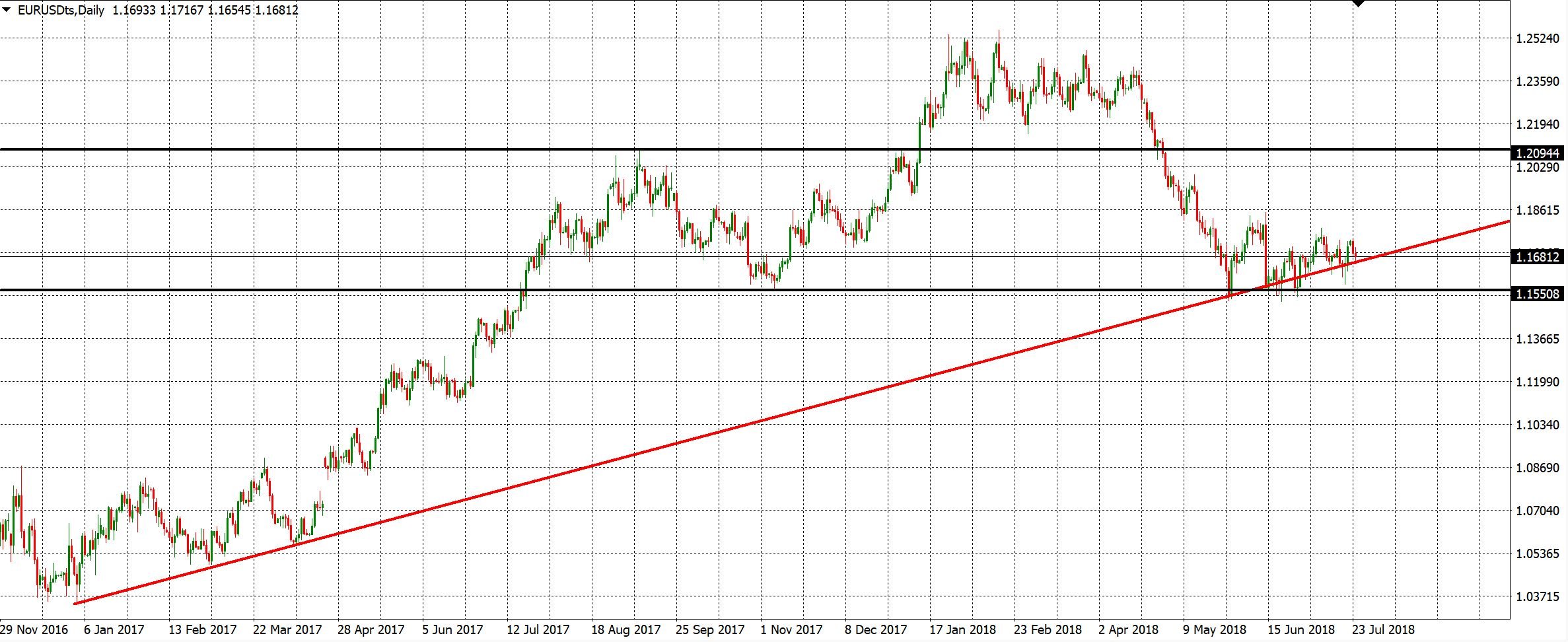 ---
---
1. Economic data.
The U.S. Dollar can thank its recent strength on monetary policy that diverges from the rest of the world and growth differentials that are growing more drastic.
In 2017, when EUR/USD unexpectedly rallied, the market began pricing in a Goldilocks scenario in Europe: sure, the Federal Reserve was increasing interest rates, but there was so much talk of European growth, which hit a 10-year high, that the European Central Bank (ECB) would not be far behind in normalizing policy.
However, that story changed when Q1 growth data was released. European GDP grew by 0.4% in Q1, a deceleration from 0.7% in Q4 2017.
Since forex trading is all about expectations, that shift has caused the market to reprice EUR/USD and rethink whether the ECB can normalize policy.
Two scenarios could play out that cause the market's perception to shift once again. Either Q1 European growth was a blip on the radar (aka a temporary slowdown) or it could be a canary in the coal mines pointing to lower global growth, which would invariably impact the United States. Either way, the differential between European and U.S. growth could easily narrow as data is released through the remainder of the year.
2. A global trade war.
The Trump Administration is involved in high-stakes global poker — and the hegemony of the U.S. Dollar may be at stake. Just today, President Trump showed no distinction between ally and competitor when enforcing steel and aluminum tariffs on Canada, Mexico and the European Union.
And then there's trade with China, which is a topic of perpetual interest for President Trump and the Commerce Department.
But how could all this cause pressure on the U.S. Dollar?
It is no secret that Arab countries and China have been in talks to change payment for Crude Oil into Yuan. That move alone would cause less demand for the U.S. Dollar globally. But the additional tension with U.S. allies may cause the entire global financial system to wonder if the U.S. Dollar has a place as the global reserve currency.
That tension could also result in tighter China-EU relationship, where the EU has to look for a place to sell the goods it was previously selling in the U.S. That creates a system that is less dependent on U.S. Dollars to operate — driving demand for the currency (and its price) down.
3. The U.S. Treasury continues to talk down the U.S. Dollar.
Before Treasury Secretary Steven Mnuchin, every U.S. Treasury Secretary since the 1990s has offered one line on the U.S. Dollar: "A strong Dollar is in the national interest."
That may seem like a strange line given a widening trade deficit, but a strong Dollar is great for interest rates and debt. That's because if foreign countries can buy U.S. debt (denominated obviously in U.S. Dollars) and rely on the Dollar not to lose value, they can accurately predict returns. If the Dollar starts to weaken, however, it causes that calculus to change and may end up in them dumping the asset, which sets off a chain reaction that leads to higher interest rates.
So, a strong Dollar is in the national interest of keeping rates on long-term debt manageable.
Treasury Secretary Mnuchin did a full-scale reversal of this policy at the World Economic Forum in Davos when he said, "Obviously a weaker dollar is good for us as it relates to trade and opportunities."
That statement — even if economically obvious — was a big deal in that it was a departure from prior policy and sent markets a clear signal that the Trump Administration favored a weaker currency.
Should the recent bout of U.S. Dollar strength make the President or his economic advisors anxious, it wouldn't be hard to imagine them jaw-boning the currency lower. It's just unclear at what level in EUR/USD that happens at.
How probable are these events? In my estimation, very.
But that doesn't mean that the Dollar's strength is over. My best guess is that the most-recent bounce in EUR/USD is a temporary reprieve before a move lower. But as the remainder of 2018 plays out, I believe these scenarios become more and more likely.
---
If you want to capitalize on these or other trends in the forex market, you can start trading with TopstepFX today.