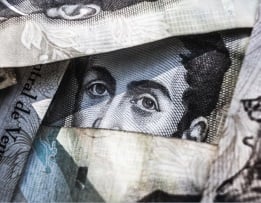 Randy McKay is a name that many traders have likely not heard of. He is one of the rare breed of trader that was able to find success immediately - without blowing up an account or experiencing many of the challenges that even successful traders face. He was able to turn a $2,000 stake into $70,000 in his first year trading currency futures on the floor. That was a short pit stop to making tens of millions during his trading career.
Here are the three pieces of advice he gave traders in Jack Schwager's The New Market Wizards to improve their performance.
---
Want to trade our capital? Get started in a Trading Combine® today!
---
This week our series of insights from Jack Schwager's The New Market Wizards focuses on Randy McKay, a currency futures trader who made tens of millions in the market. (Check out our last post "How Common Sense Helped One Trader Retire in 10 Years.")
McKay said that he realized early that prices moved based on the psychology of those trading - with anxiety, greed and fear all prevalent in the markets.
Quality trades trump the quantity of trades - particularly as you are learning. McKay started trading in 1972, shortly after currency futures launched at the CME. He said that on average that first year, he placed just two trades a day. But at the same time, he was able to build a $2,000 stake into more than $70,000. In today's dollars, that is like turning $11,000 into more than $400,000.

It shouldn't be surprising then that when asked for advice for a losing trader, McKay says, "Sometimes the reason people lose is that they're not sufficiently selective. Upon analysis, a trader may find that if he only concentrates on the trades that do well and lets go of the other typse of trades, he might actually be successful."

McKay's suggestion is to match that trading style with your personality. If you are meticulous and focused on minimizing risk, then maybe you should spread trades. If you are more risk friendly, you have other strategies you can do.


Don't be concerned with the market moves you are not in. One of the reasons that many traders are afraid of cutting losses is because they worry that the market will eventually prove them right - if only they can withstand the current pain. In no uncertain terms, McKay says that doing so will risk your trading career: "If you stick around when the market is severely against you, sooner or later they're going to carry you out."

He later elaborates, "You also have to consider how many potential future winners you might miss because of the effect of the larger loss on your mental attitude and trading size."

That fits in perfectly with TopstepTrader's motto: "Alway trade for tomorrow." One thing that many traders do is allow a single position or trade to risk the gains it took a week or month to accumulate. Great traders don't have that short sightedness.


Listen to the market. McKay offered a number of examples of where the market action differed from what should have happened - and how that presented major opportunities. In

his first million-dollar trade in 1976, McKay faded the British government, which had said that it would not allow the Pound ($6B) to rise above $1.72. McKay noticed that the price initially fell, but then started to trade right at $1.72, and stay there - almost as though it was locked limit up. That led him to believe that the price was unsustainable below 1.72. When the first crack happened, the price ran - much, much higher. Three or four months later, McKay was able to cash out at 1.90, gaining him $1.3 million on the trade.

Another example - when the U.S. went to war with Iraq. At the time, Gold ($GC) was trading near a psychologically-important level - $400 per ounce. The news caused the price to initially break higher, bursting through that level and trading up to $410. Then, the price started to decline and closed the session at $390. That was an indication that the price was going even lower.
Can you take these insights to trade better? Have any feedback or questions? Put them in the comments below.