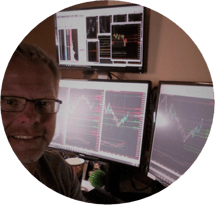 Three Trading Lessons from Fred's Success:
Profitable with a 45% Winning Trade Percentage: In Funded Trader Preparation, Fred N. from St. Charles, Illinois, was wrong more often than he was right. But his winning trades were double the size of his losing trades - $255.83 vs -$122.36 - that he easily stayed profitable. As a result of the discipline to keep losses small, he was profitable on 70% of his trading days, making an average of $658.32 on those, while losing an average of $446.11 on his losing days.
The resiliency of a trader: Fred started off Funded Trader Preparation in a hole - losing $961.52 on his first day trading. For being in a $50K account, that put him awfully close to his $1,000 Daily Loss Limit - and almost half way to his $2,000 Max Drawdown. As many good traders do, Fred took the next two days off. When he returned to the market the following week, he was in a position for 50 minutes and lost just $7.36 on it before getting out. Live to trade another day. His third and fourth days trading, he got more in tune with the market - gaining $1,111.68 and $1,690.64, respectively. That put him more than halfway to his profit target.
Trending markets present golden opportunities (pun intended): Fred is a Gold trader - and was in his Funded Trader Preparation account when Gold started to trend in early August. A view of that move on our commission-free TSTrader platform is below. Even though at TopstepTrader we are day traders, we can still capitalize on trends. And Fred certainly did.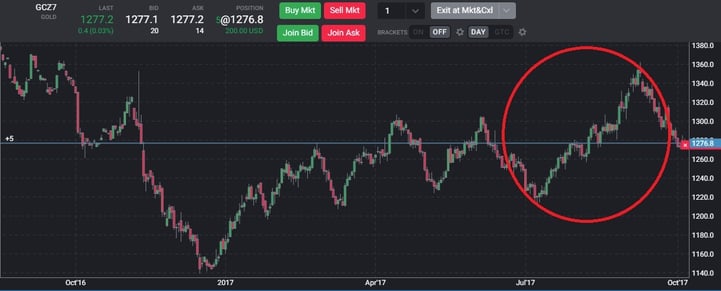 Three other observations from Fred's trading:
Fred made an average of $326.99 in his Funded Trader Preparation™ account. That would be an average $82,000 per year if he maintained it into his Funded Account®. The point: you don't have to hit home runs in order to make a strong living.


On his two best days, Fred didn't change anything materially. His average losing trade and average winning trade were in similar size to his overall averages. Yet, he was just more in tune with the market - pushing his average winning trade to 58% and 64%.


Fred traded just an average of 1.5 contracts per trade. Even though under FTP's rules, he could trade up to 5 contracts at a time after he made $2,000 in profits. The lesson: many of our successful traders don't trade as much as they could. Instead, they get in a groove that works for them and slowly add size.
Awesome job, Fred!
Want to see if you can join Fred in a Funded Account?
Here's a snapshot of Fred's Funded Trader Preparation dashboard.