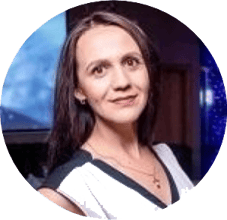 Trading Lessons from Darya's Success:

One trade is all it takes: Unlike Graham's 47 days, it took Darya just 16 days to meet her Funded Trader Preparation profit target of $1,500. On 14 of those days, she placed just one trade, with an average winning trade size of $109.25. Being so controlled, she was able to make winning trades nearly 79% of the time.

Control the size of losers: Risk is often a common theme in our funded trader blog posts, but Darya took that to a whole different level. Her average losing trade was just $25.52, less than a quarter the size of her average winner. Her largest losing trade was just $42.36. She immediately cut losers when they didn't work out. Her average duration for a losing trade was just 3 seconds (that's less time than it took you to read this sentence).

Vary contract size with confidence: Darya was comfortable trading four contracts, but would frequently cut that size in half - presumably based on her confidence in the trade. While it makes sense for some traders to always default to X contracts, for Darya, varying contract size worked well.

---
Darya was the epitome of our mantra: Trade for Tomorrow. She started slow in her Funded Trader Preparation account, a five-day winning streak that netted her $155.42. But after that, she had a good base to get rolling. On day six, she was able to nearly double those gains, adding $123.89 to her balance. From there, she didn't look back.

Some traders think that scalpers have to be in and out of the market constantly throughout the day to make money. Darya disproved this. Her plan involved making one trade of varying size (from two to four contracts at a time) for a very short timeframe - often just seconds. But, even though she had winning trades as high as $317.64, she kept her losing trades to a max of $42.36. Being picky pays.

Darya's scalping focused on the major currency pairs - the Australian Dollar (6A), British Pound (6B), Canadian Dollar (6C), Euro (6E) and Japanese Yen (6J). Most of her trades, including her most successful trades, were in the British Pound, where she had trades that gained $240.07, $305.14 and $317.64 - more than half of her $1,500 profit target.

Awesome work Darya! Can't wait for you to keep this up in your Funded Account.