The news driving markets continues to play out like a professional wrestling match. There's a little bit of everything: heroes, villains, threats, heel-turns, over-dramatic commentary. The only major difference is that at least a handful of people at a wrestling match presumably know exactly how it will end (apologies to any readers if we just ruined the magic of the WWE).
Now would be a good time to get caught up on the action so far...
The Fed Cut Rates, But Apparently Not Enough
In our opening bout of the week, the U.S. Fed announced Wednesday that they would cut the federal funds rate by 0.25%. This was the first time the central bank slashed rates in more than a decade. One might think that the equity crowd would go wild!
But alas, they didn't.
S&P 500 futures fell more than 50 points following the announcement. Not so much because traders expected a 50bps cut, but more so because they did not like the way Fed Chair Jerome Powell framed the action.
"We are thinking of it as a mid-cycle adjustment to policy," Powell said. "I'm contrasting it with the beginning of a lengthy cutting cycle."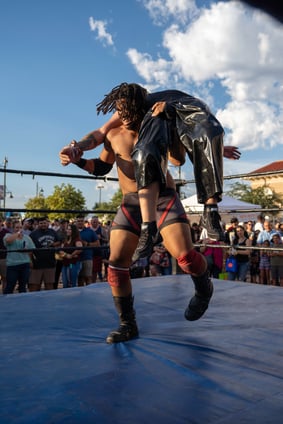 Pictured: Jerome Powell adjusts expectations
The suggestion that this cut might be a one-and-done deal as opposed to the beginning of a sustained program spooked the equity markets and significantly flattened the treasury yield curve. Stocks rebounded somewhat after Powell tempered his language, leaving the door open for more rate cuts at future meetings.
All seemed right in the world, and equity futures rallied significantly during the early trade session Thursday. Until...
10% Tariffs on $300-Billion in Chinese Goods
In the parlance of professional wrestling, President Trump repelled from the rafters Thursday afternoon and hit equity market bulls with a steel chair.
The actual weapon, in this case, was a trio of Tweets announcing that the U.S. would impose additional tariffs on $300-billion-worth of Chinese goods. According to the President, these tariffs would be enacted on September 1, unless the two largest economies in the world could agree on a new trade deal within the month.
The S&P 500, which had rebounded somewhat from its post-Fed lows, proceeded to drop 63 points on the news before regaining some ground late Thursday afternoon. The index closed at 2,954.
Now what?
We're afraid that your guess is as good as ours. But there are at least four major factors that could drive market volatility in the coming weeks:
Uncertainty of future Fed rate cuts
Possible conflict with Iran
Escalation of the U.S./China trade war
Corporate earnings results
Any one of these ingredients might lead to the next big rally or sell-off in equities, bonds and commodities. The VIX is up nearly 50% in the past 5 days. The one thing that you can't call this market is boring.
---
---