The British Pound is set to finish the month of May sharply lower after several weeks of losses versus other major currencies. Against the buck, Sterling is off 3% and near the lows of the year. There might be little relief in sight, given the uncertainty ahead of an October Brexit deadline and after the abrupt resignation last week of UK Prime Minister Theresa May.
---
---
May to Leave in June
May said she would step down as party leader on June 7 after failing three times to reach a Brexit compromise that would satisfy both the European Union and UK's opposition Labour Party. The battle is on now, as several competing parties attempt to replace the embattled prime minister.
Conservative candidates who could replace May are facing mounting pressure for a hard break when Britain parts ways with the EU on October 31. Such a "no-deal Brexit" is seen as the worst-case scenario for the Pound, because it could deliver a serious blow to the UK's economy. Late last year, the Bank of England warned that exiting the EU without an agreement could trigger a financial crisis and a 25% drop in the currency.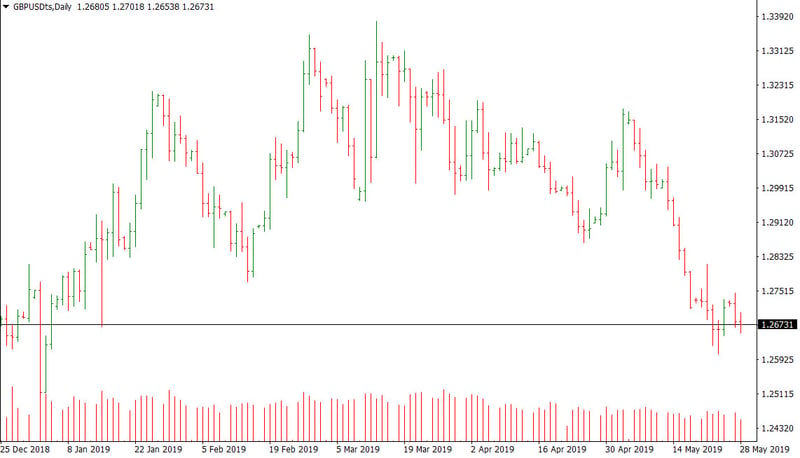 Figure 1: GPB/USD Daily Chart
While a no-deal Brexit is still considered by many to be the least-likely scenario, the probabilities seem to have increased after May's resignation, and, accordingly, the Pound is back under pressure.
An Uncertain Future for the Pound
The daily chart (Figure 1) shows GBP/USD falling back to 1.2673 and knocking at the door of last week's multi-month closing low of 1.2624 from May 22. The Pound suffered losses during the past three consecutive trading weeks against the greenback and seems to have precarious support around the 1.26 level.
Sterling's short-term downside might be limited, however, because some groups that oppose Brexit are also gaining momentum.
Some members of Green and Democrat parties – the so-called "remainers" — oppose Brexit altogether and are pushing for another Brexit referendum, which could overturn the June 2016 decision to leave the European Union. In addition, any Prime Minister who brings a no-deal Brexit to the floor will likely face a no-confidence vote from lawmakers.
In sum, Theresa May's resignation last week did little to lift the cloud of uncertainty hanging over the Pound. Now, the October 31 deadline for Britain to leave the EU remains the key date to watch. Until then, market action is likely to be headline-driven, with ups and downs based on the changing probabilities regarding whether the UK will leave the EU, with or without a deal.