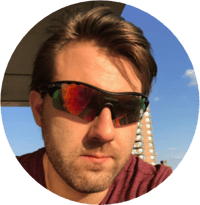 Trading Lessons from Anthony's Success:

Learning the perils of going outside your trading plan: In the Trading Combine® that led to his Funded Account™, Anthony was just $20 away from his profit objective. Then, Murphy's Law took hold. "I made $950 in one day on my Trading Combine, and I normally would have called it a day. But I was just $20 short of my profit target. For $20 I stepped outside of my trading plan and the losses piled up quick. I went from up $950 to ending the day -$400."

Successful trading is a journey: We all have grand expectations that we will become the next Paul Tudor Jones, but in reality, profitable trading is a long process of learning and, unfortunately, losing. Anthony, who has been trading futures for more than five years, said that he first started a Trading Combine years ago. But he "took a break from TopstepTrader to re-evaluate myself as a trader." Sometimes a break is all you need to change your mental approach.

Embrace volatility: Anthony realizes that volatile - or moving markets - are a trader's best friend (so long as you aren't married to a single market view or position). Anthony looks at a 1-minute timeframe to see those moving markets and where he might take advantage. Here's Anthony summarizing his view: "Volatility and trend is a trader's friend. I look for opportunities in moving markets. My mantra is the stronger the trend, the bigger the opportunity."

---
Anthony became our latest funded trader - moving from a $30K Trading Combine through Funded Trader Preparation and into a Funded Account. Three trading days into that Funded Account, he's continuing his profitability streak - up $267.48.

While it's still too early to draw conclusions from that Funded Account, it did strike us as interesting that just 27.78% of his trades have been profitable thus far. Yet, his overall account is positive. As Anthony works to bring that average up, we expect that his profitability will only increase as well.

Anthony's road to a Funded Account wasn't smooth. He recognized that some of the challenges he faced during his Trading Combine and Funded Trader Preparation were of his own creation. Specifically, in trying to make $20 to pass his Trading Combine, he actually ended up in a multi-day drawdown that caused him to come within $200 of his trailing max drawdown.

But Anthony was resilient and made sure to never go outside his trading rules again. "From that point on, I never deviated from my plan again and was able to comeback and earn a Funded Account on that very same Combine," he said.

We all could learn a lot from Anthony's self awareness and discipline.

Great work Anthony! Congrats on your success.
Want to see if you can join Anthony in a Funded Account?