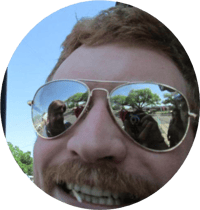 Trading Lessons from Graham's Success:

Patient profits: It took Graham 47 trading days to pass Funded Trader Preparation, during which he battled back from a negative $1,388.40 balance - within $600 of his max drawdown - to make $3,311.83 in total profits. Graham knew that there's no reason to force the market to give you profits. He took his time, stuck by his rules and successfully made it to the destination.

Dealing with commissions and fees is a challenge: Graham was consistent in his trading size - always two contracts. But he was in and out of the market much more than many of our other funded traders. He paid an average of $72 in fees and commissions each day while trading nearly 40 contracts. His net daily P&L during Funded Trader Preparation was $70.46 after commissions. Put another way, of all the profits he made from the market, more than half was eaten away by commissions and fees.

You can be profitable with a sub-50% winning trade percentage: Graham was only profitable on 41.36% of his trades, but he was profitable on 49% of days. With an average winning day of $380.55 and an average losing day of $226.70, he stayed on the right side of the ledger.

---
Trading an average of 39 contracts a day, Graham has been one of the more active traders in TopstepTrader's $50,000 Trading Combine and Funded Trader Preparation.

As we've said so many times, the reason that Graham's trading plan worked was that he had an intense control on risk. On his worst trading day, he lost just $533.52, slightly more than half of his daily loss limit. His average losing day was even less - at just $226.70 - while he gained on average $380.55 each positive day.

That's how Graham was successful even though he was only positive on 49% of his trading days and 44.44% of his trades.

Graham was actively trading forex, energy and equity futures, but he was most successful on two currency pairs: the Canadian Dollar (6C) and British Pound (6B). His Canadian Dollar trades netted him a total of $917.45 during Funded Trader Preparation, while trading the British Pound resulted in $965.36 of gains. Combined, the two products gave him more than 56% of his total profits.

But his best day, he traded just half the normal amount of contracts he trades - making $1,233.20 on 20 contracts.

Well done Graham! Best of luck in your Funded Account!