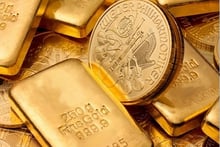 Gold had an unusual 10 minutes midday on Friday. After spending the first hours within a $2 trading range, the price fell $10 as more than 65,000 contracts traded hands. That's the equivalent of 6.5 million ounces of gold - or $8.3 billion worth.
Where'd that kind of move come from?
First, a look at the move, which happened around 10 AM CT.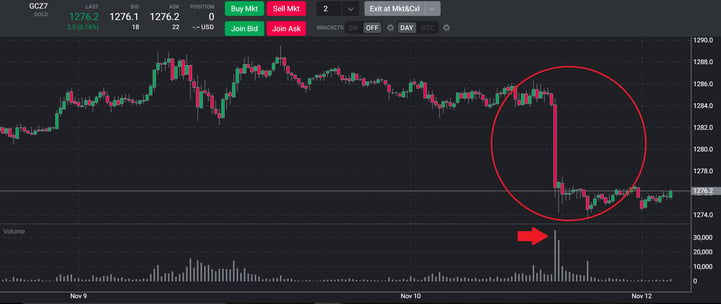 Here's that move on a 1-minute chart. Each successive red bar is another spat of selling.

That's the kind of move that blows past stops, particularly on a Friday afternoon. No one wants to get in front of that, particularly as stops below the low of the day at $1,282.50 were hit.
So what sparked it?
Scenario A: the fat finger / flash crash.
In Bloomberg, Ross Norman of precious-metals dealer Sharps Pixley Ltd. said that the trade that started it, selling 18,149 contracts, was unusual. A trade of 18,149 ounces, however, he said would be "very typical."
But in a fat finger / flash crash, the price typically recovers much, if not all, of the move. Yet, Gold only bounced slightly to close the day near its lows.
Enter, Scenario B: capitulation / liquidation.
Vince Lance, the founder of Echobay Partners, talking with Kitco.com, disagreed. He attributed the move to a "small speculative play from a major fund." He clarified, noting that hedge funds are less price sensitive "when it's time to get out."
That would suggest feelings - at least in that one hedge fund - that the price is set to decline even further.
It'd be easy to see how that feeling might develop. Gold experienced a precipitous decline from its September high above $1,362. Its now retraced more than 50% of the move from below $1,210 - a level signifcant to technical traders. With the price failing to hold any rallies above that level (~$1,287), it wouldn't be surprising if the theoretical fund liquidated its position.
Which scenario is more likely? The answer is that it's unclear. Both a fat finger mistake or a large intentional order could be at fault.
But both suggest there's some skittishness in Gold. And that's what we would keep an eye on. As the price action follows through in the next week and a half, we may gain more clarity.