US Hog Futures prices are surging. While a swine flu outbreak tightens supplies, rising Chinese purchases of US stock are driving up demand. The trend is worth watching because, even if you're not hogwild about trading meat futures, prices might be driven even higher by the latest developments on the US-China trade front.
In other words, higher hog prices might signal expectations for a long-awaited agreement in the trade dispute.
---
---
Chinese Demand Drives Up Hog Prices
Lean Hog prices were down about $11, or 16.5% year to date, heading into March. The decline is part of a longer-term trend: prices were north of $80 in June 2018 and $90 in mid-2017. Beginning in March, however, the market firmed up and then a parabolic move unfolded (Figure 1). From March 1 to March 22, prices rallied from $56 to more than $80, or 43%.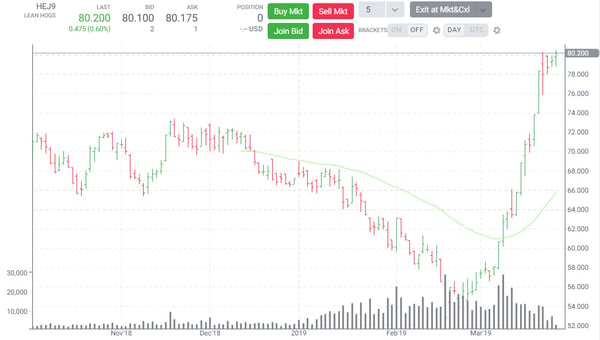 Figure 1: Lean Hogs (April Futures)
Increased demand for US pork comes as buyers in China increase purchases to make up for a shortfall due to a deadly African swine flu outbreak. The disease, which is deadly to pigs but not a risk to humans, has forced China to cut its production by 30%. The outbreak has also forced US customs officials to seize some pork products from China, in order to keep the fever from spreading to the United States.
China is a massive consumer of US meat products. It consumed nearly half of worldwide pork production last year, or 56 million tons. While the country produced more than 700 million hogs itself, it has been an important buyer of US product as well, despite 62% tariffs. In early March, the USDA said that China bought 23,000 metric tons of US pork – the largest purchase since April 2017.
The Future of Pork Depends on a Trade Deal
Now, with Hog Futures prices on track for their best monthly gain since the 1970s, pork farmers and traders are watching US-China trade talks with interest. If parties can reach a long-awaited agreement in the dispute, that could set the table for another leg up in lean hogs, as China increases its consumption even further.
While Treasury Secretary Mnuchin and Trade Representative Lighthizer held talks with Chinese President Xi Jinping in the last week of March, a final agreement isn't expected until Trump and Xi have an official sit-down.
While the meeting is expected by late April, it's not entirely clear when it will happen because Trump has repeatedly said that he prefers no deal to a bad deal. In other words, the next big move in Hogs might well depend on firm evidence of a Trump-Xi summit, an event that holds important implications across many other asset classes as well.