Twice this week, I've been noticeably "scared" to enter a trade.
The first time was Monday, when I noticed an opportunity while watching the Market Forecast with TopstepTrader's Senior Performance Coach John Hoagland. As he does every day at 8:15 AM CT live on TopstepTrader's Facebook page, John brought up the Crude Oil chart. It showed Crude was selling off hard to $51.26, slightly below a double swing low at $51.33 from January 17 and January 28. It was a clear opportunity.
But I missed it.
As the chart above shows, the price even came back to test that level two hours later. You'd think that this would be a great opportunity, but instead it just confirmed my thoughts that the market was "heavy." The market looked heavy. It looked like the support was going to give.
It didn't, and with the benefit of hindsight, we see that prices rallied that day $1.50 and have been rallying ever since. Opportunity missed again.
---
---
Fool Me Once, Shame on You. Fool Me Twice...
The second trade was this morning, when the price of EUR/USD (spot forex) fell to 1.1250. It had already tested that level overnight and rallied 40 pips higher. Then, it came back down. Not only did we see EUR/USD demand at this level earlier in the trading session, but it also corresponds to yesterday's low (1.1258) and is in an area 1.1210 to 1.1260 where EUR/USD saw demand late in 2018.
But the market looked heavy. It looked like the price was going to collapse even further. Below is the EUR/USD chart on an hourly time frame showing just how steep that sell-off from the highs was — 40 pips in an hour as the European session opened... whoa buddy.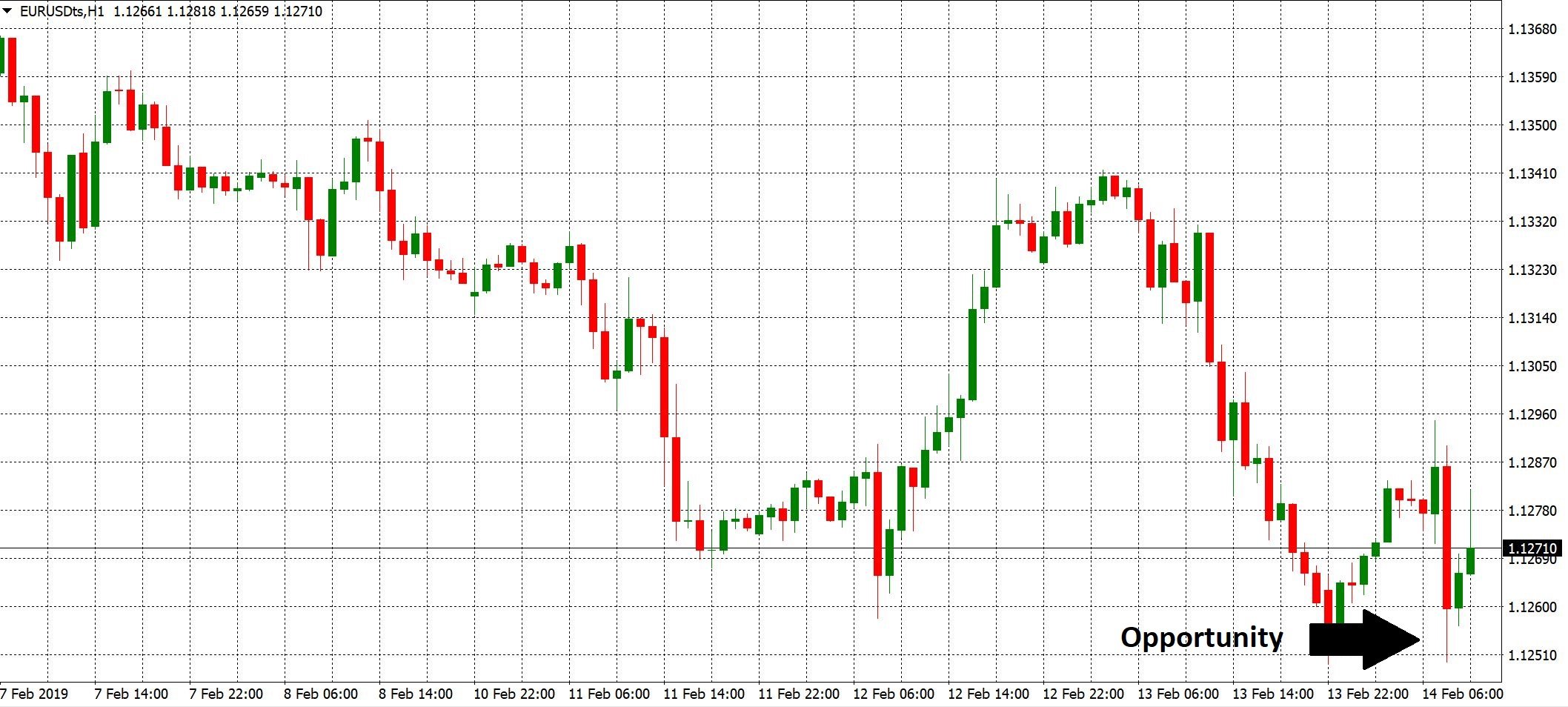 But instead of letting those feelings dominate my trading decision this time, I took the trade, going long at 1.1253 and placing a stop 10 pips below entry. I fully accepted that I was likely to take that loss — not only did the market look like it was going to fall, but I've been bearish EUR/USD for quite some time (since May and June 2018).
Ultimately, I took a small, 16-pip profit on the trade. I closed out the trade before European GDP was released (#eventrisk). But regardless of the outcome, I would be writing this article because more than anything else, as traders, we have to understand our emotions.
Everything told my head that this was a great risk-to-reward trade. But everything else told my stomach that the price was sure to hit my stop — and probably right after I took the trade.
In reality, my winning trade percentage was probably near 70% — similar to those that ultimately took Monday's Crude Oil trade. But in the heat of trading, that 30% chance of getting stopped out can seem so much larger.
You can't disconnect your emotions from trading. You can't disconnect losses from trading. But you can try to understand them and place the trades that are inside your plan. If you do that, you will make progress.
If you need help mastering your emotions, join TopstepTrader's free weekly group performance coaching session every Wednesday at 1 PM CT.
Nothing in this article should be construed as trading advice. Every trader should evaluate markets based on their own trading plan, risk tolerance and capital.