Is it just me, or did March feel like it was 3 months long? We sure had a lot thrown at us in those 31 days, and the full scope of the true damage will remain uncertain for quite a while yet. It feels crazy to say this, but the month actually started on a high note, with the S&P 500 futures rallying 10% off the February low in the first two trading days of the month. However...
As more news came to light surrounding the spread of the Coronavirus headline risk continued to expose the underlying weaknesses in financial markets. The speedy advance of Covid-19 resulted in confirmed cases being reported on every continent, with the exception of Antarctica. Trade restrictions crippled global supply chains, travel bans killed the tourism industry, schools and businesses were forced to close, major sporting and social events were either cancelled or postponed and toilet paper became the hottest commodity on the planet.
On top of that, Russia and Saudi Arabia geared up and went toe-to-toe in a full blown crude oil price war, via a production standoff, subsequently sending prices of the precious fossil fuel plummeting to near 20 year lows. They have since kissed and made up, but an entire month of crude prices under $50 a barrell put a good amount of mom and pop refineries either out of business or in the early stages of bankruptcy.
Needless to say, the panic selling that started in mid February continued through March, bringing the historic 11 year bull market to a climactic end, and giving the Dow Jones its worst first quarter in history.
---
---
The Fed Responded
With trillions upon trillions of dollars being pulled out of global markets and record jobless claims continuing to mount, our leaders in Washington put their heads together for a few minutes and came up with a solution to try and keep us all afloat for the time being. They started by dropping interest rates back to zero (yeah, that happened), then they passed the single largest stimulus package bill in the history of the United States. It's still too early to see how the economy will embrace the much needed influx of cash, but we are starting to see a small semblance of stability return to the markets right now.
All bailouts aside, volatility is still the name of the game right now. The VIX broke through the 80 level for the first time since the 2008 credit crisis, and volume and open interest appear to be increasing across the board.
The daily swings we've been seeing in the equity index futures have been crazy. During the 22 trading days in March, the E-mini S&P 500 futures traded in a 957 point range, and had an average daily range of 197.50 points. There were even three consecutive days with 300+ handle ranges. That's just incredible!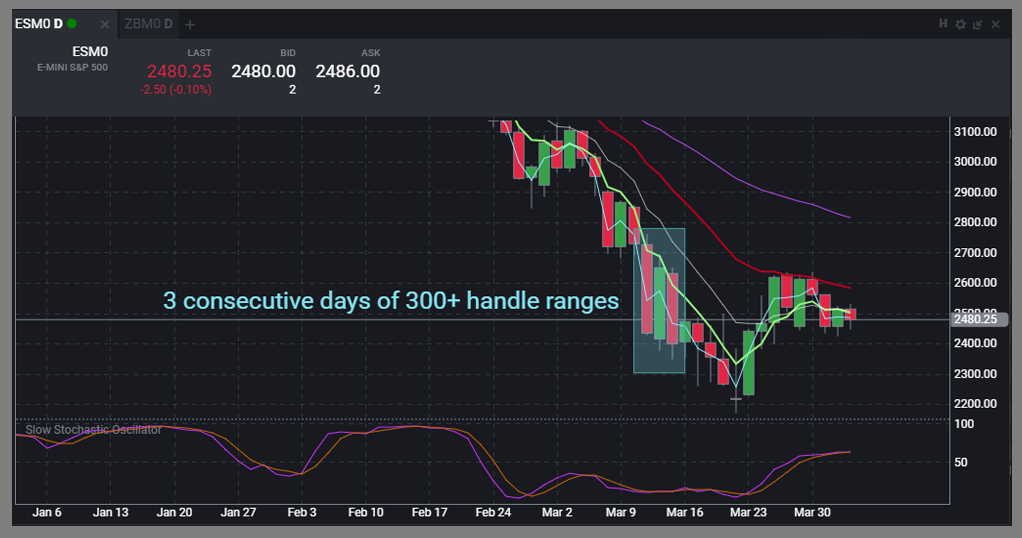 We're not singling out the S&P, it just happens to be our traders favorite product. The same effects of the volatility boom are being felt across a variety of markets. Treasury bond and note prices are at record highs as yields continue to fall, gold is flirting with the $1700/ounce level, and central banks around the world have begun stepping in with cash to hold their currencies up. It's a real mess, but we still haven't heard anyone officially label this a recession yet, so there's still hope for a speedy recovery.
Incredible Opportunity
On the brighter side, our traders are loving every minute of this. Someone went out and told them that volatility creates opportunity, and it was music to their ears. We funded 10 times more traders last month than we did in March 2019. Our first quarter increases in funding year over year are up a staggering 330%, and to further hammer the point home, we've funded more traders year to date than we did in all of 2018 combined!
The record numbers don't stop with funding either. Our traders withdrew more than $120,000 from their Funded Accounts in March. One trader in particular, Darrel R (you know who you are) who booked a whopping $11,000 in one day trading the e-mini Nasdaq futures, this is for real!
All of the limit up and down moves we saw in the stock market weren't enough to keep our traders out of the game. Just look at these stats, it's blatantly obvious that people want to trade these markets, and we're making it happen for them. We funded an average of 32 new accounts each day in March!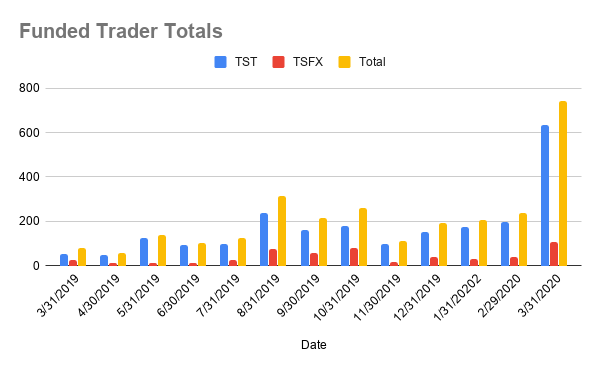 Topstep's Response to Covid-19
We understand that a lot of you are home right now and might be looking for an opportunity to learn a new skill. Or, maybe you've been interested in learning more about trading for a while, and just didn't have the time. It's Topstep's goal to be where the world goes to safely engage in the financial markets, so we want to give you the opportunity to learn about trading in a real-time simulated environment, free of charge.
Over the past two weeks our team has put together a program that will provide a high level trading education experience for you. We have packed a lifetime worth of knowledge and skills into a dynamic 30-day free practice trading account, and have made it available to anyone who wants to learn. All of our educational and training resources have been made readily available and easily accessible. Participants will have the opportunity to learn everything from the intricacies of their trading platform, to the basic principles and techniques of technical analysis and chart reading.
We're going all out to deliver the market knowledge and experience you need to be successful, so do yourself a favor and take advantage of this wonderful opportunity.
Trade well!