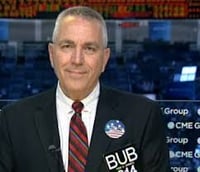 Todd Horwitz got his start trading in the pits 38 years ago. In the midst of that madness, he was able to develop a way of reading the energy of the crowd, finding success. In electronic trading today, that energy translates to paying close attention to price and volume - and ignoring everything else.
In this conversation with Eddie Horn on our podcast, Limit Up!, Todd talks about the secrets to his trading success: price and volume. But Todd also outlines the great trading mechanics that have helped him stay risk focused. For example, he shared a story of when he kept moving a stop one or two ticks away (hoping the price rebounded) and ended up taking a $2,200 loss. He keeps that chart right next to his desk so he never forgets again.
If you like this episode, please be sure to subscribe in iTunes, Google Play or on Soundcloud.
---
Think you have what it takes to be a long-term trader?
Prove you can trade, and we'll give you as much as $150,000 of our capital.
---