Small businesses are the backbone of the U.S. economy and account for 64% of new jobs created annually. Unemployment is rising rapidly and new business applications are at an all time low, but for some reason, business owners are optimistic that the economy will start to improve sooner rather than later.
How It Works
Any time a new company is formed, and expects to hire employees, owners are required to apply for employee identification numbers (EID) from the IRS. Since President Trump declared a national emergency concerning Covid-19 on March 13, applications for EID's have dropped 27% year-over-year.
The National Federation of Independent Business (NFIB) has been collecting data on small business economic trends since the early 1970s, and publishes its findings in the Small Business Optimism Index report on a monthly basis.
Results for the small business index are based on data collected through a survey of member companies focused on the following criteria:
Plans to increase employment
Plans to make capital outlays
Plans to increase inventories
Economic expectations
Sales expectations
Current inventory
Current job openings
Expected credit conditions
Expansion
Earnings trends
The last 2-months has seen the largest drop in the small business optimism index since its inception. After suffering its single worst month on record in March, where the index fell 8.1 points, April came in just a shade better with a drop of 5.5 points, bringing its 2 month running decline to just over 13%.
In a statement released Tuesday morning, NFIB Chief Economist William Dunkelberg said:
"The impact from this pandemic, including government stay-at-home orders and mandated non-essential business closures has had a devastating impact on the small business economy. Owners are starting to benefit from the PPP and EIDL small business loan programs as they try to reopen and keep employees on staff. Small business owners need more flexibility, though, in using the PPP loan to support business operations and liability protection so that all these efforts to support small businesses are not ultimately lost in costly litigation."
According to business owners, the near-term economic outlook appears bleak, but they are confident things will pick up again in the next 6 months. Earnings, sales and job opening are down across the board, but their optimism for a quick turnaround is refreshing news.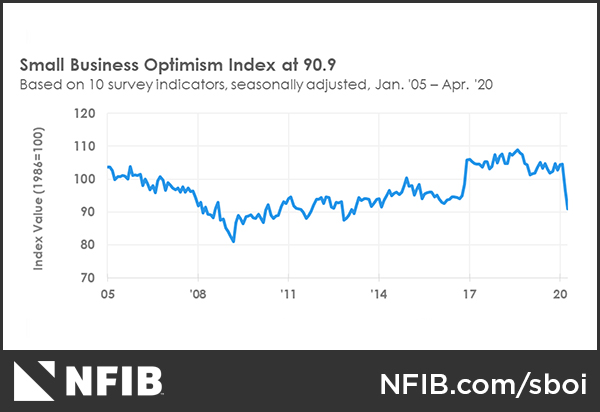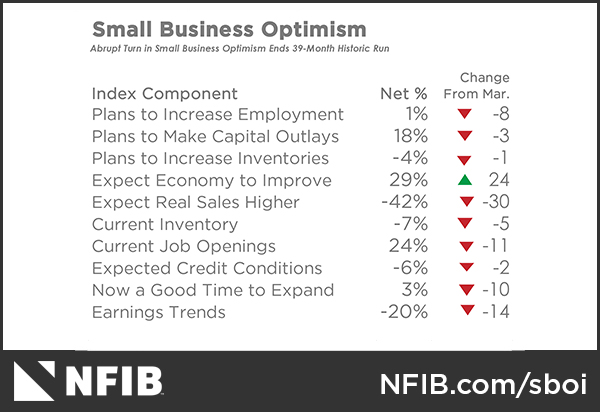 ---
---
Why Are Stocks Rallying?
Up until the Covid-19 pandemic began, the stock market had an unbelievable ability to take bad news and somehow make good of it. It would appear that trend has resumed. Amid all the uncertainty and poor economic data, investors immediately stepped in front of the train and transformed the big selloff into the ultimate buying opportunity. They didn't do it blindly though...
With the Fed expected to enact further economic stimulus, long-term investors are betting that Uncle Sam is going to right the ship, and we'll be back on track once the economy starts to reopen. So far, that's looking like a pretty good call.
The higher stocks continue to climb, the less likely it appears we will see a re-test of the March lows. However, there are two sides to every coin. Experts are still calling for a second wave of Covid-19 infections to hit sometime in the fall. If it's as bad as they say it's going to be, then we might have to do this whole thing all over again.
It's hard to turn a blind eye to what we're seeing though. As bad as all the recent economic data has been, everybody kind of saw it coming, and now the Nasdaq is back in positive territory for the year. It's possible that the extreme caution traders were practicing a month ago somehow morphed into a fear of missing out, and that's what's fueling the rally.