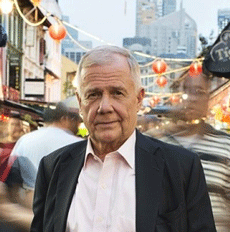 By all accounts, Jim Rogers' career is legendary. He started trading stocks in 1968 with just $600. In 1973, he co-founded Quantum Funds with George Soros, which went on to generate 4,200% returns over 10 years. (The S&P 500 only gained 47% during the same period.) By the time the 1980s rolled around, Rogers had earned enough money to retire from full-time trading.
But it's not his reported $360 million net worth that makes him exceptional. At least, it's not the only thing. What really makes Rogers a standout is his common-sense approach to the markets.
---
Think you have what it takes to be a Market Wizard?
---
This week our series of insights from Jack Schwager's Market Wizards focuses on Jim Rogers. After making his fortune in commodities, Rogers has become a financial commentator, author, and lecturer at the Columbia School of Business. (Check out our last post "These 4 Money Management Tips Helped This Trader Build a $5.4 Billion Fortune.")
Just how good is Rogers' judgement? He claims he hasn't had a losing year since the early 70s. That's the kind of track record every trader wants.
His success comes, in part, from taking a big-picture view of the markets, which he describes as a three-dimensional puzzle: "The picture is always changing. Every day some pieces get taken away and others get thrown in."
But that chaos means money is going to show up somewhere. You just have to figure out where. Here are Rogers tips for doing just that.
Wait for the right opportunity. "Even people who lose money in the market say, 'I just lost my money, now I have to do something to win it back,'" says Rogers. "No you don't. You should sit there until you find something."

That "something" is a catalyst that moves the market. For instance, Rogers bought German stocks in 1982 because he figured the Socialists were going to be thrown out and the Christian Democrats had a platform that encouraged investment. When the conservative party won, German companies that were holding back on capital equipment and expansion started investing and the markets exploded.


Watch for hysteria. Hysteria is usually a good indication that things need a closer look. Rogers says charts that show an incredible swing in one direction or the other usually motivate him to dig deeper into the situation. After analysis, he decides if he should move the other way.

When the Gold ($GC) market spiked in 1979, Rogers shorted the market. He sold at $675, stayed short while it swung to $875 in just four days, then held his position through a long-term collapse.

Selling hysteria isn't always the right move though. Even Rogers, with his sharp intellect and precise analysis, has faded hysteria and lost. In 1970, he went short the market via puts and tripled his money when the market caved. He then planned to wait and sell short when the market rallied. Two months later, he was wiped out because he "didn't have the staying power - psychologically, emotionally, and most importantly, financially."


Ignore conventional wisdom. Some trends are economically justified, like when you see the supply and demand balance change. But Rogers doesn't have a high opinion of trend following trading. That's when you would just buy (or sell) a commodity just because its price has been going up (or down).

"Following what everyone else is doing is rarely a way to get rich," says Rogers. "You have to learn to counter the market."


Don't act unless you know what your getting into. For Rogers, understanding that big picture goes as far as knowing what's happening in Malaysian palm oil before investing in American steel. But the other half of this is about patience. "Wait until you get the concept so right, and a price so right, that even if you are wrong, it's not going to hurt you," says Rogers.
What do you think of these takeaways? Put them in the comments below.