Earlier this year, volatility was widespread across many asset classes as the COVID19 pandemic began to provoke fear around the world, and supply/demand issues ensued. Many global equity markets saw the most profound selloff in history, meanwhile crude oil, in U.S. terms, traded below zero in negative territory.
However, following these historic market moves, many instruments have settled into a routine that much more resembles normalcy as the stock index futures and other barometers have demonstrated "risk-on" behavior.
As the summer has continued, many of these markets have even become noticeably slow, leaving day traders with fewer opportunities to capitalize. This quieter market behavior might persist for another few weeks, but traders should beware once the calendar rolls into September.
The COVID19 situation continues to escalate in many parts of the world, including the United States, and there is a concern that these growing numbers might spike more rapidly in the Autumn months. If you need some evidence that global risk remains, look at the gold futures market, a safe-haven that has been hitting all-time highs in recent days.
---
---
Summer's End
Monday, September 7th, is Labor Day in the United States, which marks the unofficial end of the summer travel and vacation season. During this time, portfolio managers begin to focus on the end of the year. It's crucial because when September rolls into October, there remains only one quarter in the year.
Think about it from the perspective of a portfolio manager who is depending on quarterly and annual results to determine income and potential bonuses. In the first quarter of the year, as markets became unrattled, it was difficult for these types of management styles to profit; in fact, many would have absorbed losses.
The second quarter of the year saw some rebounding; however, there was still a great deal of uncertainty. If you didn't have a productive Q1, you were likely concerned and underweight, partially on the sidelines in Q2. So, to make it up, what does the fund manager do in Q3? Many have become overweight certain asset classes as they need to reach desirable profitability levels for 2020. This probably means piling into the stock markets.
So now, when they go into the end of Q3, concerns remain of a significant increase of COVID19 cases in the Autumn season. At the same time, the whipsaw from early in the year remains in near memory. You analyze your positions and see that you are overweight, what do you do? The answer is lightened up and take profits while securing yourself for Q4.
It's Election Season!
There are other issues at work in the U.S. that often lead to volatility as well. Most notably, this November's presidential election, which also has many implications for congressional and senate seats as well. The 2016 election prompted an extreme, volatile response, something that fund managers on shaky ground may wish to avoid. Quite simply, when you manage large portfolios and are facing uncertainty late in the year, you hold on to your profits. Or if you don't have profit, some will get aggressive, going long volatility.
These are elements of market psychology that are at work. Russell Rhoads, the well-known volatility analyst, provided this data on the CBOE site, of the VX (volatility index). In a very simple way, he notes that September, October, and November are the most volatile months of the year.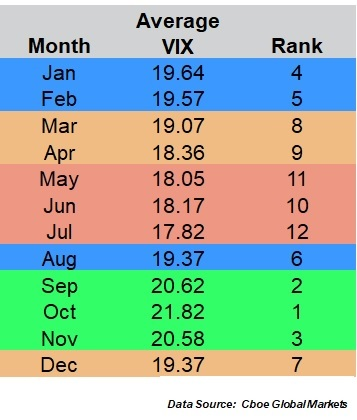 Meanwhile, the CBOE's SKEW Index, an imperfect but important indicator has once again reached high levels. This tool represents how traders perceive risk more than 30 days out. The SKEW has been rising to very high levels since July. In fact, over the last couple of years, it was only this high one other time and that was at the end of 2019 and start of 2020. Less than 60 days from when markets began to go risk-off.

I don't believe it is helpful to provoke fear, nor am I convinced that there will be a huge uptick in volatility in September/October, nor am I suggesting that any possible volatility will look as magnified as the market fluctuations from this recent March.
What I am suggesting is that conditions remain in global uncertainty, and will potentially become more uncertain in the weeks to come. If you view the markets from a portfolio manager's perspective, it might be time to adjust significantly in a few weeks. For us who trade on a smaller scale, it is helpful to realize the possibility that is around the corner. It's a good time to pay attention and be prepared to maximize any profit potential that is coming our way.