The dollar rally faces a test as the first week of April brings a flood of economic data. Take a look at some (certainly not all) of the key statistics due out Monday through Friday:
Monday: Retail Sales, Manufacturing
Tuesday: Durable Goods
Wednesday: ADP jobs
Thursday: Jobless Claims
Friday: JOBS, JOBS, JOBS
With the U.S. Dollar posting its best monthly gain of 2019 in March, surprises or disappointments in the data will help traders determine whether the rally has legs.
---
---
EUR / USD
Against the Euro, the U.S. Dollar posted its best monthly gain since October. Although the Euro made a valid rally attempt mid-month, weak Eurozone manufacturing data helped thwart the effort.
Dovish commentary from the European Central Bank, as well as expectations ECB will keep rates low for quite some time, further weighed on the Euro. At 1.1230, EUR/USD is now within striking distance of its one-year lows on March 7 (Figure 1).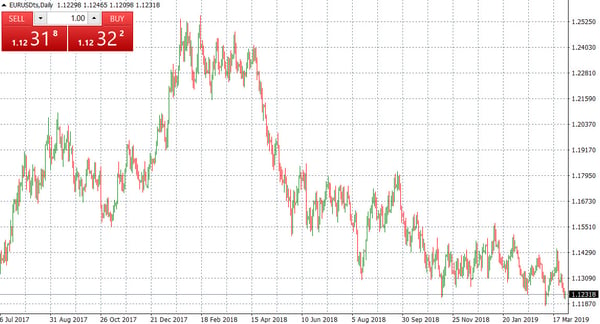 Figure 1: EUR/USD Daily Chart
USD / JPY
USD/JPY saw choppy action in March, but the longer-term trend is U.S. Dollar strength. Despite a lot of zig-zag action, and a "flash crash" in December, USD/JPY is again approaching 111 and now well above the December lows near 105 (Figure 2).
The rebound comes as Asia's equities markets have seen a sharp rally off December lows amid hopes for a final agreement in US-China trade talks. In other words, the Yen has lost some of its "safety" bid as risk appetite returns.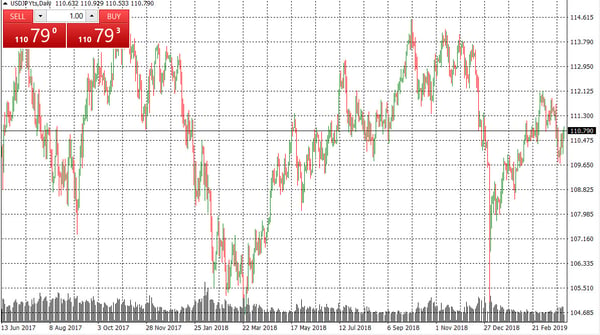 Figure 2: USD/JPY Daily Chart
The Data
While Manufacturing, Durable Goods, and Retail Sales numbers come into focus Monday and Tuesday, the second half of the week is all about jobs.
ADP gives a sneak peek at the March jobs situation with its private sector numbers Wednesday morning. Economists expect the report to show the economy adding 175,000 jobs, after a 183,000 increase the month before. Then focus turns to Weekly Jobless Claims Thursday before the big jobs number Friday morning.
Economists expect Friday's headline to show 170,000 payrolls added in March. In addition, any revisions to the dismal 20,000 print from February could have market-moving potential. Average hourly earnings are expected to increase by 0.2%, down from 0.3% last month. But the unemployment rate is estimated to remain unchanged at 3.8%.
The U.S. Dollar index was testing one-year highs on March 7 before the disappointing February jobs report interrupted the rally. By March 20, it had dropped 2%. It has since recovered the bulk of the losses and gained 1.3% for the month – the buck's best showing of 2019.
While jobs numbers are just one piece of the FX puzzle, the implications of the next report should not be overlooked: any big surprises or disappointments will help determine whether the U.S. Dollar's recent rally is really justified or whether it suffers another setback like it did after the last report on March 8.