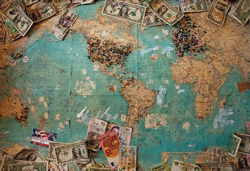 It is always interesting to get insight into how professional traders at large firms - trading large dollar amounts - think about trading. On a recent episode of Bloomberg's Odd Lots, hosts Tracy Alloway and Joe Weisenthal talked with Ken Veksler, a currency trader and director of Accumen Management.
Ken was able to offer real-world examples of how he structures his trades and expresses his market opinion. Specifically, he noted that ahead of Brexit, he wanted to go short the British Pound. However, instead of focusing on the Pound relative to the U.S. Dollar, he tried to identify the currency that the Pound would most reliably weaken against. That led him to the Australian Dollar - a currency that he thought could hold its ground regardless of where the U.S. Dollar moved.
Ultimately, that trade turned out to be a large winner for Ken as the British Pound got hammered in the aftermath of the vote - across the board. Things that Ken considers: market positioning, expectations and his own analysis.
Here's that interview. Enjoy.