Folks, I must confess that I didn't pay much attention to the markets this weekend. I was both flat, and extremely interested to see what Shaquille O'Neal could do as a DJ at Lollapalooza (the answer is that he continues to be one of America's greatest cultural treasures). It was a rough Monday morning. I placed an online order at the wrong Starbucks, then proceeded to do a literal spit-take once I finally looked at the S&P futures quotes...

Pictured: ES futures quote 8/5/2019, 9:00 AM CT, these would look great a few hours later
So apparently this trade war is on...
Wow. Yeah. This was definitely a spicy start to the week that only got spicier as the day went on.
The Chinese Yuan breached the 7:1 level against the Dollar for the first time since 2008. For what it's worth, the Chinese government claims they are simply letting market forces do their thing. Many see this claim as, shall we say, dubious.
One person who definitely wasn't buying the talk out of Beijing was President Trump who flat-out accused the world's second largest economy of currency manipulation in a Monday morning Tweet. As you might have guessed, this was exactly the sort of constructive trade negotiation tactic that sent equity markets to brand new highs.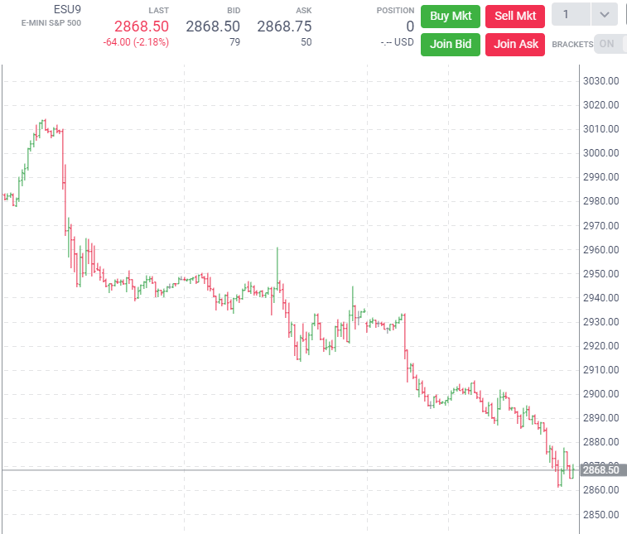 Figure 1: ES August 1-5
Just kidding. The ES future finished the day down 87 points (-2.98%) and was off by more than 100 at points during the afternoon session. For those keeping score at home, this bloodbath was indeed the worst day for equities in 2019.
The tech-heavy Nasdaq led the parade losing -3.47%. Also, as of the writing of this blog, the after-hours ES futures are off another 20-35 points.
UPDATE: Upon waking up this morning, it seems that the ES futures are now up 30 points. Apparently China has now pegged the the Yuan slightly below the 7:1 level. This is all getting pretty interesting. Hold on tight.
China, China, China
In addition to devaluing (and then re-valuing) their currency, China also announced they would no longer purchase American agricultural goods. In short, they aren't messing around. So who's going to back down?
In one corner you have a one-party-controlled government that doesn't have to worry about pesky things like elections. In the other, you have a U.S. president who, regardless of where you fall on the political spectrum, you must admit he holds rather strong convictions concerning international trade.
Are these beliefs constructive, helpful or even fully fleshed-out? I'll leave those arguments to the people getting paid 6-figures to wax philosophic in the New York Times opinion section. For now, it just means that a quick resolution to this trade war seems unlikely.
So now what?
Stay safe and make sure to set your stop losses. Volatility is really exploding right now, so there are definitely opportunities to make some big money. But keep in mind that there's always somebody losing that money as well. It's the circle of life.
---
---