The price of Gold is surging. After a multi-month downtrend, the yellow metal made a decisive breakout move in late May that has erased nearly all the losses suffered the three months prior. Daily price swings have been wide and there seems to be a lot of momentum behind the metal's move to 15-week highs.
Demand for Safe Havens Drives the Surge
What's fueling the parabolic move in Gold? Several factors, it seems. After reaching ten-month highs of more than $1,355 an ounce in mid-February, prices came down sharply and Gold shed $80 to $1,275 through mid-May. As stocks remained under pressure through the final week of May and money flowed into other asset classes, prices ticked higher.
The big move in Gold started on the final trading day in May after the Trump Administration unexpectedly announced plans to levy tariffs on products coming from Mexico. The move opened another front on U.S.-led trade confrontations and triggered a risk-off move: money flowed into "safe haven" securities like Gold and bonds.
The daily chart of Gold futures (below) shows prices (August) breaking above the multi-month downtrend on Friday, May 31, and then four straight days of gains. At its highs (on June 5), Gold had reached almost $1,350 and had retraced more than 90% of the loss suffered over the previous four months. Now that's a big move!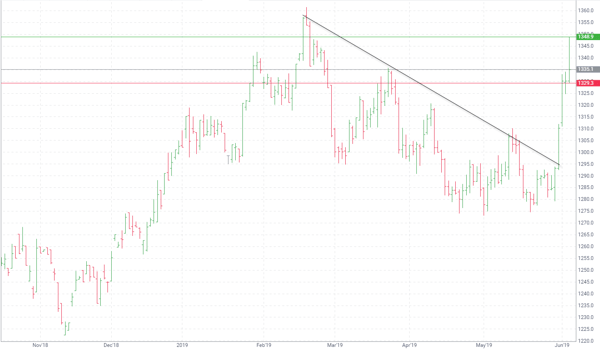 Figure 1: Gold Futures (GC August) Daily
A Bumpy Ride Up
While Gold has been strong, daily price swings in the commodity have been impressive as well. From high to low on June 5, for example, the day's range was almost $20. A similar move happened on June 3 and on May 31.
Whether or not the rally in Gold is sustainable remains to be seen, but with global financial markets focused on macroeconomic and geopolitical events, volatility will likely continue. Gold is also benefiting from shifting rate expectations in the U.S. after Federal Reserve Chair Jerome Powell said on June 4 that officials are moving away from a "patient" approach to monetary policy. He also acknowledged the risks from trade conflicts, saying the Fed will react "as appropriate."
In short, hopes for a rate cut weighed on the U.S. Dollar and helped support Dollar-denominated Gold.
---
---
It's no secret that concerns over global trade are impacting global financial markets. As a result, stocks have come under fire, rate expectations are changing and the Dollar has lost some of its sizzle: all these factors are conspiring to lift the precious metal to three-month highs. Besides that, daily price swings are wide and there are likely substantial profit opportunities for futures traders on the right side of the next move.