2019 has seen a couple new funded traders get off to red-hot starts. We talked a couple weeks ago about how Gabriel F. in Spain added $26,000 in profits in 33 trading days.
But it's not just Gabriel that has been able to add big profits to his trading account recently. Bill M. in Illinois gained nearly $27,000 in profits in his Funded Account® over 46 trading days. And their two trading styles could not be less alike, proving that you can make money in a multitude of different ways.
Whereas Gabriel sticks with Crude Oil and equity futures, Bill trades anything and everything. He's held positions in currencies (Australian Dollar, British Pound), metals (Copper, Gold), energies (Crude Oil, Natural Gas), agriculture products (Live Cattle), financials (Ultra Bond) and equities (Dow, Nasdaq, S&P 500, Nikkei).
Also different: their reward-to-risk ratios. Gabriel had a perfect 2:1 reward-to-risk ratio; Bill's average winning trade is actually less than his average losing trade (+$471.82 vs -$571.65). To stay profitable, Bill has nearly 70% winning trades and 57% winning days. And, critically, he never loses too much on any one day — his largest winning day is $4,776 vs. a largest losing day of $1,550.
Here's a closer look at Bill's equity curve, which is a beautiful lower left to upper right pattern.
---
---
46 Days, $26,963.15 in Profits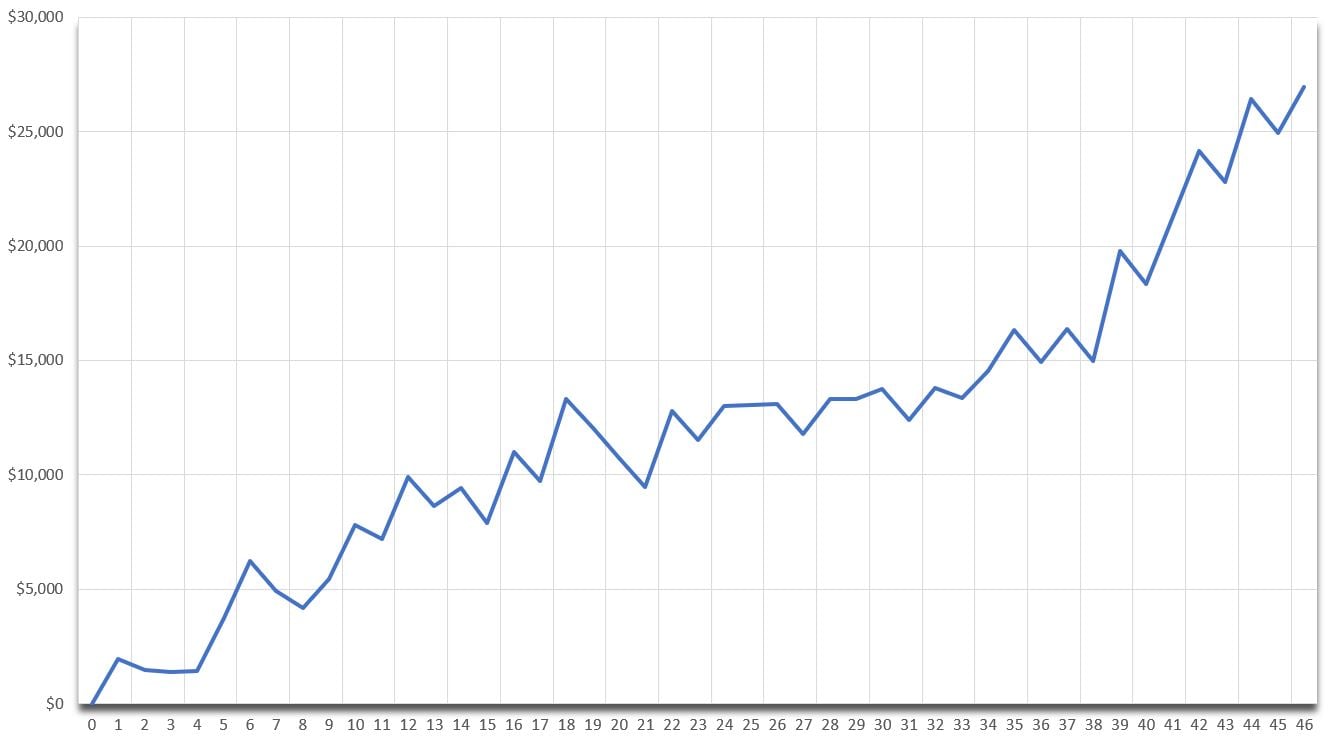 If this was a stock chart, it would be a huge, screaming buy. The pattern of higher highs and higher lows is unmistakable. If that were your equity curve, you would be ecstatic.
One thing that is clear is Bill's ability to profit. He is not afraid of letting his profits soar when he is in tune with the market. His average winning day is $1,900 — bigger than his largest losing day.
That is critical.
So many times, traders will take large losses without the proven ability to make those losses back in a day. One of the things that Dr. Brett Steenbarger says is that a trader should not risk more in a day than they can make in a week, or more in a week than they can make in a month. With his "modest" max loss less than $1,600, Bill is certainly not doing that.
Capitalizing on a Quick Start
There is no doubt that Bill benefited from a quick start — $1,954 in gains on day 1. But he continued to trade slow during that first week, giving back just 1/4 of that over the next few days. One thing that TopstepTrader Risk Manager Mick Ieronimo said in an episode of the Limit Up! podcast is how frequently traders will follow large winning days with large losing days. Bill did not do that.
After making nearly $2,000 his first trading day, Bill gave back just $530 over the next three days before making $4,800 in a two-day winning streak that really set his account apart.
Trading Less Than He Could
Bill upped his contract size as he's built his balance, but he has not increased the frequency of his trading. He rarely makes more than three trades in a day. When he started, he traded just one contract per trade.
With a $27,000 balance, Bill could be trading more than 15 contracts at a time. Yet, he's trading just six. Why? With 15 contracts, he'd be risking 11% of his trading account for every 10-point move in the Nasdaq. It's taken him 46 days to build up to a $27,000 balance. Why give 11% of it away in a small 10-point move?
Most importantly, Bill used the Trading Combine® to find the trading style and patterns that work the best for him. Now, he's profiting.
Great work, Bill. Keep it up!