If you're a little confused about when markets are closing for the Fourth of July Holiday, don't worry, we've got you covered. We know the CME's Holiday Schedule can be a little tough to read, so we're going to break it down for you as simply as we can.
First, the New York Stock Exchange (NYSE) will be closed for business on Friday, July 3, in observance of Independence Day. However, CME Group equity index futures products (and a few others) will be open for an abbreviated session and will close early on Friday, July 3.
---
Please note, not all CME Group products will be open for abbreviated trading sessions on Friday, July 3. The table below shows what is open and what is closed.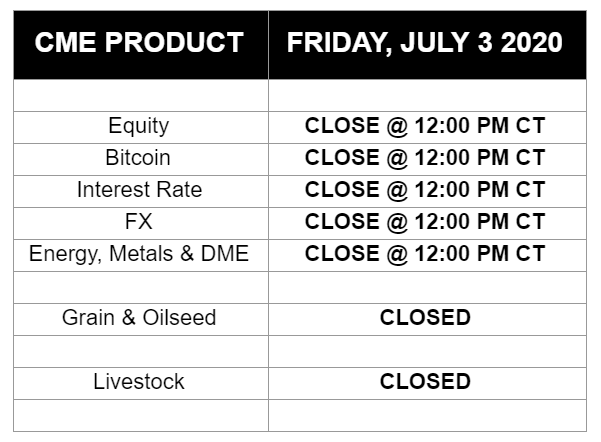 Expect Low Volume
Due to Friday's early close, we are anticipating lower than average volume across all open markets and a minimal amount of market participation, so consider that if you are thinking about trading. Other than that, everything will reopen Sunday night (July 5) at their regular times.
If you're done trading for the week and need something to do, then look no further than the "The 2020 Topstep International Classic" We're pitting 16 stock indices from around the world against each other to see who will reign supreme after 4 days of fierce competition. As always, there will be some excellent prizes going to the winners, so start brushing up on your stock market knowledge and sign up here when you're ready!
Stay safe and trade well!