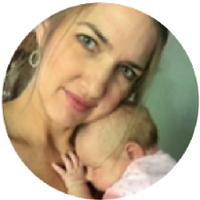 Melissa M. from Stillwater, Oklahoma doesn't fit the stereotype of a trader. When she started trading back in 2010, she was a single mother with two young children, a full-time job, and a degree in microbiology.
At TopstepTrader, she found a way to explore her passion for trading. Now she's putting up numbers other traders would envy. Just last month, Melissa posted four $1,000+ winning days, including a three-day streak where she gained $2,829. She hasn't yet withdrawn from her Funded Account®, but she sitting on a very healthy account 24 days in.
We caught up with her for an interview to talk about how she did it — and why she believes she is more successful trading live now than in the past.
TopstepTrader: Thanks for speaking with us today, Melissa. You've had a remarkable February, making over $1,000 on four separate days while seeing a max loss of just $975.60. What can you tell us about your approach?
Melissa: My general approach is to get in when others figure out they're wrong. I want to get in when some traders are desperate to get out and others are desperate to get in. It's what I call a double whammy — capitalizing on the entry and exit orderflow of other traders.
TopstepTrader: So your trades are in response to what other traders are doing?
Melissa: This may sound horrible, but my goal is to capitalize on the fear and greed of others, while attempting to control my own. I've done well on certain days because I got in at a good area, and other traders' emotions carried price way further than you'd expect.
TopstepTrader: Does that mean you trade by instinct? Or is there research involved, too?
Melissa: My approach comes from lots and lots of screen time. My parents were trading during the dot-com bubble, and I started looking at charts. The attraction of figuring out what is happening in charts never left me.
Now I trade two contracts at a time, taking one lot off either at a predetermined level or when price seems to be stalling. I keep the other lot as long as I can. I used to mainly focus on the five-minute chart and one-minute chart, but now my focus is more on the 30-minute and five-minute charts. I use the one-minute chart more as a fine-tuning tool to see where trades are failing and where short-term traders are trapped.
TopstepTrader: Have you made any changes that might account for last month's success?
Melissa: The best improvement I've made is to stop being attracted to the bells and whistles of the opening action. I used to jump in within the first 5 minutes because I was afraid of missing out. I was so worried I might miss the one and only move of the day. Now I give the market a few minutes to settle in and try to make a better determination as to where price is headed. When I do decide I have a better sense of direction, my account is still intact and I can start from zero instead of negative.
TopstepTrader: This isn't the first time you earned a Funded Account. What changes have you made?
Melissa: Trading is challenging, and I wasn't able to maintain the requirements of holding a Funded Account. It was purely because of myself — my inability to be okay with a loss has caused more damage to my financial and emotional capital than anything else. TopstepTrader is a way to preserve your personal financial capital, so that takes care of one of the issues.
TopstepTrader: What advice do you have for a trader who is just starting out?
Melissa: First, have a plan and keep it simple. Start with one or two simple rules and see how you do. Then add a rule or criteria and keep your stats.
Again, work to preserve your emotional capital. It's as important as your financial capital, if not more so. And if you're not trading well, take a step back. Get your bearings, figure out why you're trading outside your plan, then come back stronger.
Some days I turn on my screen, and I know I'm feeling weak. I shouldn't trade those days. Remember, you don't HAVE to trade today. The market still be there tomorrow or next week. A person I consider a mentor and friend, John Hoagland, said, "Stay humble, patient, and take it easy. Sometimes things cost less and take less time if we can do that."
Finally, don't quit your day job. It's too much pressure if you haven't been consistently profitable for at least several months and making at least twice your regular income.
TopstepTrader: Great tips, Melissa! Keep up the good work.