We have a HUGE WEEK for markets ahead. Take a look at the economic events that are poised to move forex markets in the next five days:
Monday, 10:30 PM ET: Reserve Bank of Australia
Wednesday, 10:00 AM ET: Bank of Canada
Thursday, 7:45 AM ET: European Central Bank
Friday, 8:30 AM ET: U.S. February Non-Farm Payroll Report
Here's a look at how all these events may shake out in the market.
---
---
Reserve Bank of Australia — Monday, March 4 at 10:30 PM ET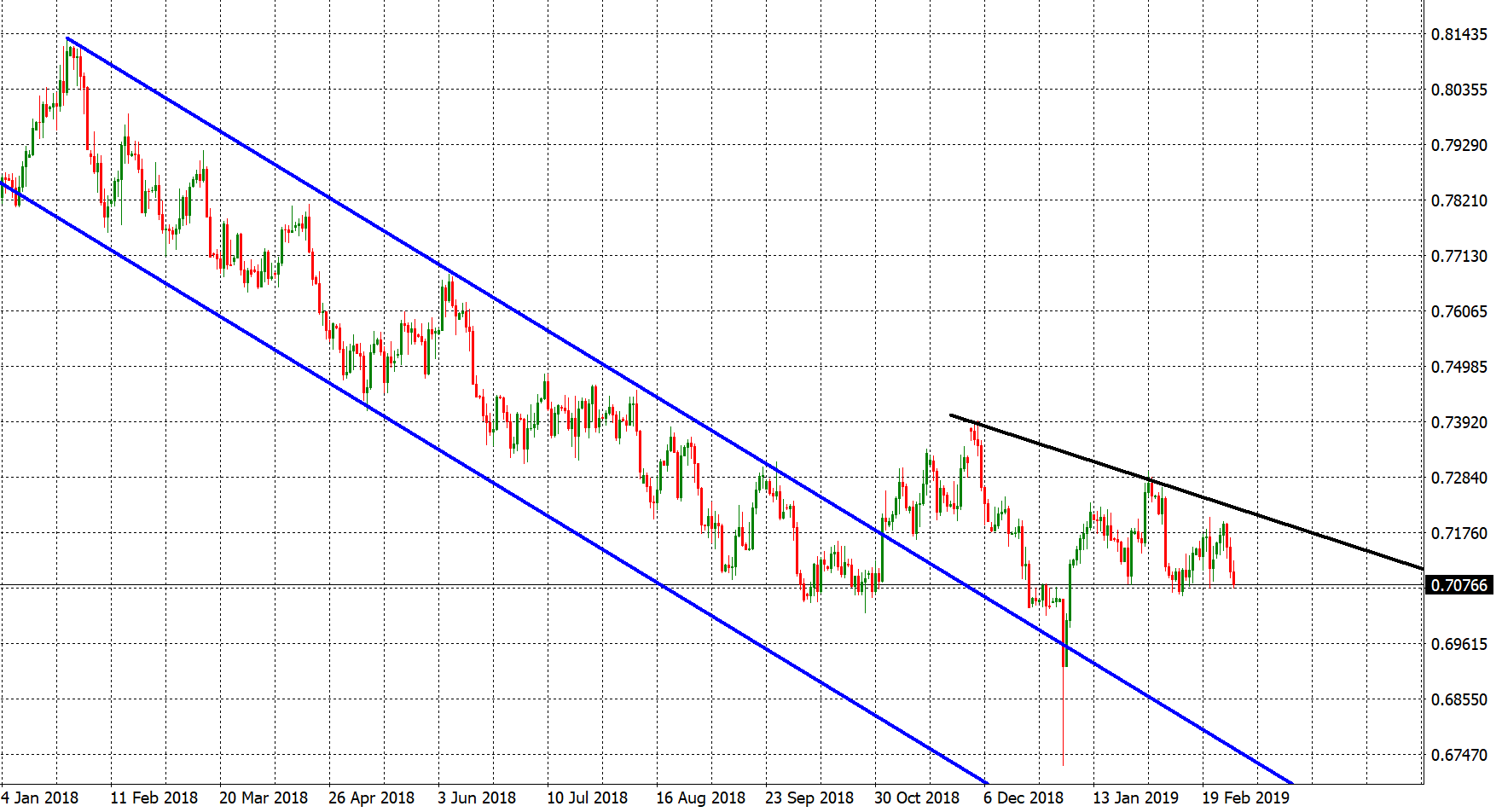 The Australian Dollar has been in a year-long downtrend versus the U.S. Dollar. Even after AUD/USD broke out of this beautiful descending channel (see the daily chart above), AUD failed to hold a rally. It has since put in a series of lower highs — a fact that is not constructive for any Australian Dollar bulls out there.
The real key to the upcoming RBA meeting will be whether it backtracks on its forward-looking economic growth predictions. If it does, the selling pressure on AUD may continue. If not, there could be a relief rally that challenges the recent swing highs.
Bank of Canada — Wednesday, March 6 at 10:00 AM ET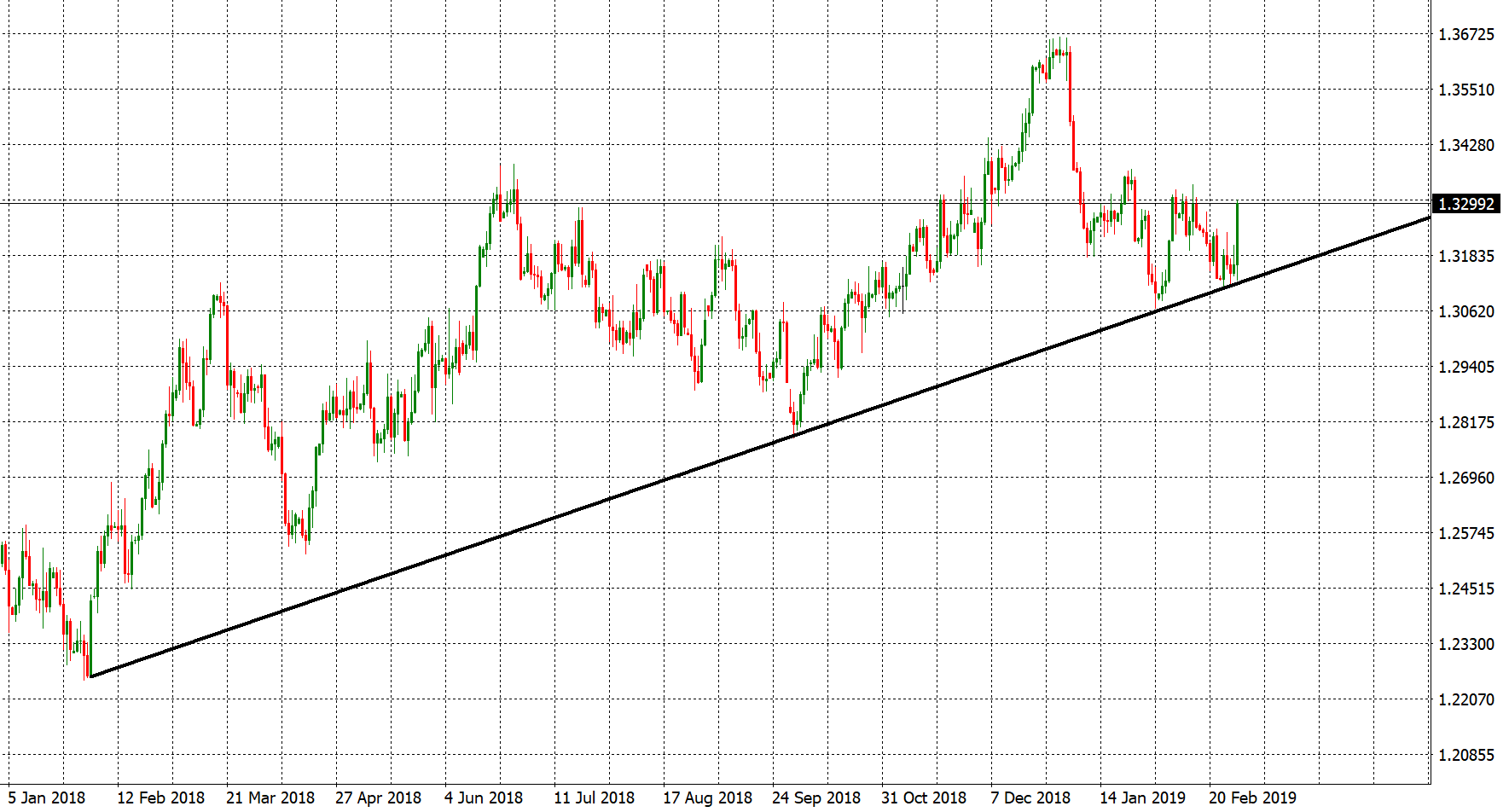 There is now a beautiful upward-sloping trend line supporting prices in USD/CAD higher — marked by lows in February 2018, October 2018 and February 2019. Prices bounced firmly off that line last week, increasing its importance as trend support.
However, though the price of Crude Oil rallied more than 20% this year, the Canadian Dollar has only managed to gain 2.5%. This week, the BoC could offer a key to understanding where Canadian growth is going, and if they might have a couple more rate hikes in the pipeline should oil prices spur inflation. How the market interprets these comments could spur the next big breakdown or rally in USD/CAD.
European Central Bank — Thursday, March 7 at 7:45 AM ET
It's pretty clear right now to anyone looking at the data: Europe is slowing. Italy is in a confirmed recession — its third in a decade. And other European economies aren't doing much better. European manufacturing activity is now heading in reverse, according to IHS Markit's purchasing managers' index, released last week. That slowdown was led by Germany (not good news for the German-dominated ECB).
This week, we'll have the opportunity to hear from the ECB. If Europe is heading for a recession (as the data and bond yields indicate), the ECB might walk back plans to end its stimulus. That could be very bearish for EUR/USD. And if you combine that with...
U.S. February Non-Farm Payroll Report — Friday, March 8 at 8:30 AM ET
Jobs, jobs, jobs. The U.S. economy — by most measures — is avoiding any global economic slowdown. In January, the U.S. economy added 304,000 jobs. In February, it is expected to have added another 185,000.
Those jobs are carrying through with positive economic impacts, as we saw last week when Q4 GDP growth came in at 2.6%, above the 2.2% that economists expected. So it's no wonder why the U.S. Dollar is strong relative to its rivals.
The ECB / U.S. jobs data combo could set up for a very powerful trend move in the EUR/USD. With the series of lower highs that the pair has put in, the path of least resistance is still lower.