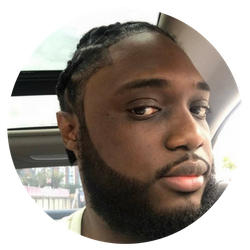 If there's one thing that more than 13 years of trading teaches you, it's that trading is not a get-rich-quick scheme. It's a lot of hard work, setbacks and persistence. These are traits that Jacqui W. in Maryland, TopstepFX's latest funded trader, possesses.
Jacqui passed Step 1 of the Trading Combine® in just five days. From there, he says that he became overconfident and eager to to earn a Funded Account® to start trading live capital. As a result, it took him a little more than two months to pass Step 2.
We caught up with Jacqui last week to learn more about his trading strategy and what advice he would give other traders in the Trading Combine.
---
Don't risk your own money trading forex. Trade with TopstepFX today!


---
Consistency comes from moving past losses
"The one word that I stress and keep on emphasizing is consistency. Consistency is truly the most important key to successful trading."
Jacqui has a lot of experience trading forex, from opening online trading accounts with brokers like FXCM using $500 to trading more than $1 million in notional value at the age of 24. He's weathered the ups and downs that come with trading in a remarkable way, trying to learn lessons at every step.
"Trading is going to take time," Jacqui says. "Some of the same demons will creep up throughout your trading journey. The key is to find out why and then learn from them."
Jacqui says a key realization for him was that he didn't need 90% winning trades to be profitable. That allowed him to start taking losses with a smile. Instead of being upset about the past, he knew that the next trade he put on had a higher probability of being a winner than a loser — and that allowed him to be excited about the future.
Since he could move past the loss and accept that "failure" was a part of trading, he was able to be more consistent. And that is the most important key to trading success.
A trading strategy breeds confidence
"Finding a strategy with consistent profits will be you're biggest challenge, but the most rewarding aspect of trading."
Jacqui has tried different trading strategies throughout his 13 years in forex trading. He says that at one point, he took a hard look at the number of trades that he was placing. Between the spread and commissions, he was giving up more than 200 pips a month to get in and out of trades. The amazing part is that's with just five trades a day. Now, he trades much less frequently, a move that has helped him cut back on losses.
Jacqui identifies himself as a trend and technical trader. His favorite indicator is the Moving Average Convergence Divergence (MACD).
The MACD is calculated by comparing the 12-period exponential moving average (EMA) with the 26-period EMA. When the shorter-term EMA crosses over the longer-term EMA, it indicates that a bullish trend may be developing. The opposite would indicate a bearish trend.
For Jacqui, the MACD helps him identify medium-term trends that he can take advantage of. "It helps me visualize the market," he says. His advice: find a strategy that fits your personality and minimizes your flaws.
Do not look at your P&L
"Looking at your P&L impacts your psychology, so I try to not look at it until the trade is done. To me, it's all about the levels."
Jacqui has set solid targets for his trading, but those targets are not about profits. Instead, he focuses on a goal of making 300 to 400 pips a month. By looking at it in terms of pips and not profits, Jacqui is able to control his urge to trade larger and larger size.
In forex, with high leverage, if you trade larger and larger size, eventually a losing trade is going to wipe out the profits of your winning trades. So you can have an experience where you actually were profitable 60% of the time, have made a certain number of pips, but do not have any profits to show for it.
By ignoring profits altogether, Jacqui says that he can better control his emotions. When he does trade larger, he's not caught up in the excitement or paralyzed by fear. He is just trading for pips.
---
Do you think you can join Jacqui in a Funded Account? Start trading now.