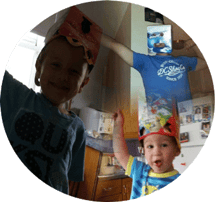 Derrick M. in Saskatoon, Canada has been trading for more than five years, but just recently caught his stride. Though Derrick passed the Trading Combine® three times before passing Funded Trader Preparation™, he just recently earned his first Funded Account™.
We asked Derrick what changed in his trading that helped him complete the Trading Combine and Funded Trader Preparation on his third try. Here's what he had to say about that - as well as three pieces of advice he has for traders going through the Trading Combine or Funded Trader Preparation.
TopstepTrader: Thanks for taking the time to share your experience. What do you think it was that clicked recently to help you pass Funded Trader Preparation?
Derrick: I started to control my risk both per trade AND per day. I realized that one of the things holding me back was my personal Daily Loss Limit.
I never really had my own Daily Loss Limit and always just used the TopstepTrader account max Daily Loss Limit as my max risk. I heard from others how this wasn't a good idea, but for the longest time, I didn't know how to find what my max daily loss should be.
TopstepTrader: How'd you end up doing that?
Derrick: After talking with Eddie Horn in the Squawk Radio community, I decided to find the Daily Loss Limit that would work for me. I had no idea what I was looking for, but I printed out all of my trade reports for the year and placed them in front of me.
Once I looked over all the days, I started to notice something: on all the days I was profitable, I never had more than a $550 drawdown. That is great info to have and allowed me to set a reasonable Daily Loss Limit for myself around $700.
TopstepTrader: So it sounds like this was a very personal number.
Derrick: Absolutely. After seeing the patterns, it becomes a matter of applying what I learned in my trading. That's what I am working on at the moment - and something that I will continue to work on for a while. Even though I've been trading for many years, I am still a rookie and prone to let old habits creep back in.
When you find a trading weakness, you have to be committed to documenting them and focused on fixing them.
TopstepTrader: Was there anything else that helped you pass FTP for the first time?
Derrick: I also reexamined my trades to make sure that I placed my stops at appropriate levels so that I didn't lose too much on each trade. I now look at the Depth of Market to help me get into a trade and see the price action. Usually, I can keep a stop to $0.06 in Crude Oil, though sometimes I give my trades $0.10.
TopstepTrader: So, in short - sounds like a lot of work and analysis.
Derrick: Absolutely. I also took time off to trade in market replay. I've always used market replay, but would trade live at the same time. This time, I told myself that I would only trade in market replay until I really knew I was ready. I didn't even look at a live chart this time.
TopstepTrader: How long did you do that?
Derrick: That was four to six months. I did nothing but trade on market replay. I traded off six months of data and went to town executing my trading plan over and over again for mistakes or inconsistencies. I would trade the same data, but the data set was so long I really couldn't remember any of the days' price action by the time I restarted the data set.
Eventually, I realized I was ready to trade in live markets. I had found out so much info about myself and my trading plan, where I was really strong / weak and how I would react in different market situations.
I also gained a really good eye for the market structure of Crude Oil. It was an invaluable process.
TopstepTrader: This is great Derrick. Last question - what two or three pieces of advice would you give traders looking to improve - whether just starting out or 2 years into their trading adventure?
Derrick: My top three pieces of advice are:
Know your market: Pick one market and stick with it until you learn everything you can about it.


Control your daily losses: This is a very personal number, but don't confuse TopstepTrader's Daily Loss Limit with the loss limit that will help you stay profitable.


Find a good community or a trading buddy. Talking with Inletcap from futures.io has been great for me. He never gave me the answers, but for a long time guided me with hints.
Thanks so much Derrick!
Here's a snapshot of Derrick's FTP dashboard. He'd be the first to admit he doesn't have it all figured out - but he's certainly progressing in his trading.