Did you see that move in EUR/USD yesterday?
Since hitting a low in early March, EUR/USD has been on a tear, gaining eight out of 11 trading days. Heading into yesterday's Federal Reserve meeting, that put the price pushing up towards some critical resistance.
To make things more interesting, the FOMC went ultra-dovish in their statement, backing away from any interest rate increases in 2019, downgrading the outlook for growth and setting an end date for its quantitative tightening. That hit the U.S. Dollar hard and has EUR/USD threatening to reverse a year-long downtrend. Let's take a closer look.
---
---
Let's Break Down the Market
Here is the daily EUR/USD chart, which shows that downward-sloping trend line that's been in place since September. It has three points of contact and contained all of EUR/USD's rallies over the past six months. Each successive lower high was met with a lower low — a classic chart pattern indicating a strong downtrend.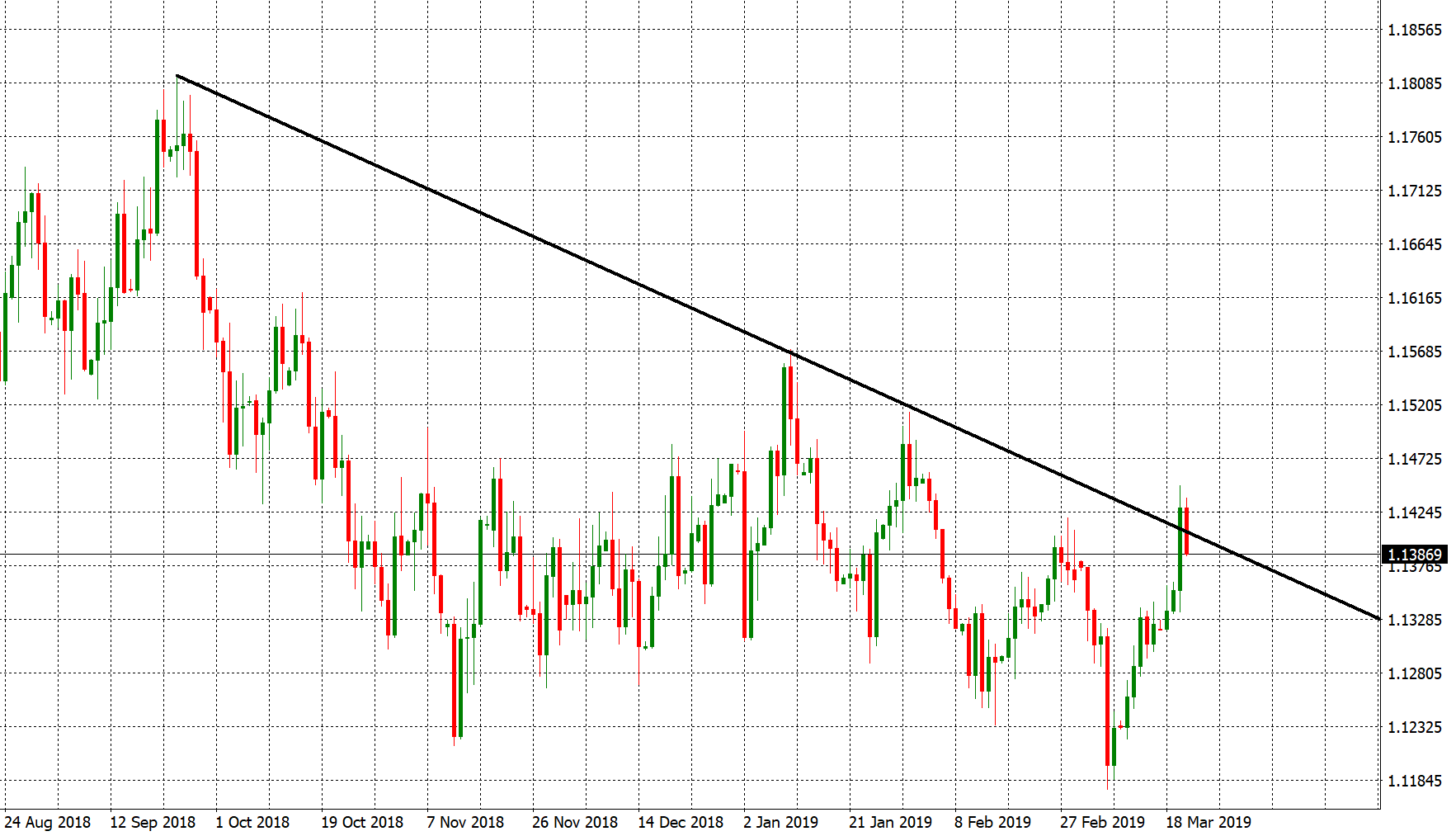 No longer. Price broke this trend line and moved to a higher high, compared with the high from February.
However, it's too early to say whether price is accepting above the trend line or it was a short-term move. Knowing if a price accepts is always tricky, but today's trading day is going to be critical. Why?
As of Thursday morning in Chicago, EUR/USD has come off its post-FOMC highs, reversing about half of yesterday's move. If bulls come in and drive the price back higher, that would be a pretty strong sign that bulls are in control. If, on the other hand, price closes below this trend line, we'll have to await more information.
I could make an argument for either scenario happening. Though the Federal Reserve did make a pretty bearish shift yesterday, the U.S. is the best performing economy in the world at 2.1% GDP growth expected. Europe, on the other hand, is heading for a recession (Italy is already in one). During challenging times, the U.S. Dollar tends to get a safe-haven bid.
However, the technicals favor a EUR/USD rally. As mentioned, the pattern of lower highs is officially broken as the price yesterday rose above the February highs. And while price hasn't accepted above the trend line, the line is violated. Everything I see on the chart tells me that a rally is about to start.
But that's the point. "About to" doesn't mean "is going to." And we have to recognize that. Right now, we need more information from the market.
I think that information will come as early as today. If you are poised to take advantage and patient enough to wait for market signals, then you will be well positioned to capitalize on the move when it happens.